The Best Sport You've Never Heard Of
For anyone who enjoyed treasure hunting as a kid (I know I did- I had a treasure hunt birthday party in the woods when I turned 10!), you will probably enjoy the updated grown-up version. This new adventure game, called Geocaching, is played all over the world; the official Geocaching website says that there are now 2 million official Geocaches to be found.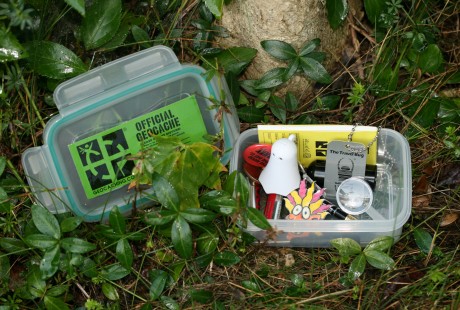 photo
All you need to play is a GPS (and a membership). Plug in the coordinates of the Geocache you are hunting for and head in that direction. There are plenty Caches to choose from, so if you're a beginner you can look for Caches in the park, when you've built your skills you can search in the woods, and when you are an expert you can trail blaze through the mountains.
The GPS will only get you so far. Once you are reach the coordinates of your destination, it is up to you to find the Cache. The Caches can be hidden in plain sight or very cleverly; for example, one girl carved a hole in a log, stuck a Geocache inside, attached a swinging door to cover it,  and turned the log door-side-down to look like part of the scenery. Level: expert.
Some Geocaches include log books so that all of the successful treasure hunters can sign in, while others include actual treasures that you can take with you, and in return you are expected to leave something of equal or greater value behind for the next treasure hunter. When you get home you can sign in to the Geocaching website to log your adventure for the rest of the world to read about.
Instant adventure! Geocaching is definitely on my to-do list.
If you are scared of regular rock climbing than you should stay far, far away from cliff tenting. This is rock climbing to the extreme; it is overnight rock climbing. Your accommodation will be a hanging tent that you bring with you and anchor to the side of a cliff!
image by Gordon Wiltsie
There are no videos (that I could find) of this incredible sport- probably because the people pictured seem to be the only ones who have tried it. Apparently nobody else wants to be a cliff-tenting pioneer… I can't imagine why.
If you like dancing, and you wish you could fly, here is the sport for you! This particular type of aerial dancing involves doing flips and poses while you are high in the air and hanging onto draped fabric. It is very pretty and an excellent performance sport. Cirque du Soliel uses this one a lot.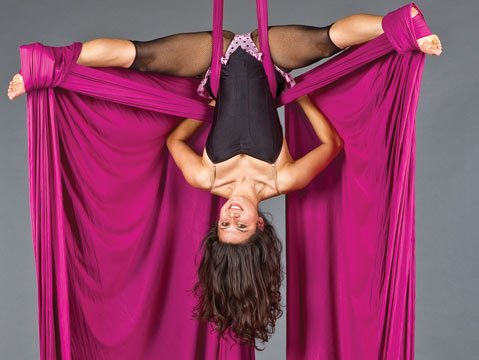 I've taken one aerial dancing class and I was surprised at how easy it was to get started. I was doing some cool moves by the end of the hour! I imagine the more advanced skills are a lot harder to master, but you might impress yourself with what you can accomplish if you try out a class. Here, to prove that "if she can do it, so can you!" is a five year old girl who can aerial dance like a pro!
Also, this sport has the benefit of a super-easy set up if you ever feel like adding one to a room in your house with really high celings. It is easy to tie the fabric out of the way when not in use.
This might be where I draw the line. Tubing behind a boat is fun, but tubing 30 feet in the air? Sounds a little crazy. But plenty of people do it, and some have even preformed the kite-tubing barrel role (see the end of the video). Do a barrel roll!
photo
Just hold on to the handles and pull upward to start flying. It makes for some pretty awesome videos, but also some pretty gnarly injuries. Worth the risk? Maybe not, as Wego pulled the product from the market due to a huge amount of injuries.
If you're still willing to try it, you can buy kite tubes on eBay and similar sites. Or you can get a smaller version of a kite tube on amazon.
Ever wondered what it would be like to be a hamster spinning around in plastic globe? Wonder no more. Invented in New Zealand, the land of epic sports, zorbing is the much more awesome human equivalent of the hamster globe.
You are harnessed to the inside of a giant inflatable ball, sometimes with a partner, and let loose. Or you can skip the harness and tumble untethered, putting some water in the zorb instead so that your ride is like a perpetual water slide. (See video). The ball has an inner and an outer sphere so there is a nice cushion between you and the steeply sloping ground you will be rolling down. You can zorb on grassy hills, snowy mountains, or even just roll around on the water.
If you want a zorb of your own, it will set you back a few thousand dollars. To learn more about zorbing and see if there is a zorb arena near you, check out Zorb.com.
No, not mini-skateboarding with your fingers. That doesn't even count as a sport. Real handboarding, also called handplaning, is surfing, or bodysurfing, with a miniature surfboard attached to one hand. Or sometimes two, depending on your style.
photo
Using a handboard (or handplane) allows you to go higher and faster than regular bodyboarding and get points for being epically awesome. So if you like water sports, this is a pretty unique one, and cheap to get into. You can pick up a handboard on Amazon for around $35.
Snowboarding – Snow + Sand = Sandboarding
Sandboarders need to get themselves to the top of the slope since ski lifts aren't available, which naturally makes the sport less popular than snowboarding. The sandboard itself is often waxed before a run to help it glide over the sand.  My favorite part about sandboarding? You can do it barefoot. Its just like taking a romantic walk down the beach. At 30 miles an hour.
Here is a list of good sandboarding dunes, and if you live anywhere near Florence, Oregon, you're in luck- you can learn to sandboard at Sand Master Park.
Want to own a sandboard? You can buy them online from Venomous Sandboards.
It's about time somebody invented a sport where the field is a giant trampoline. What the heck took them so long?
Bossaball is pretty much the coolest sport you've never seen- it is a mixture of volleyball, soccer, gymnastics, and martial arts played between two teams in an epic battle with flips and upside-down kick-serves. Just watch the video.
I know which position I want to play.