Awesome Summer Jobs: New Resources
Its nearing the end of February and that means that all the cool summer workplaces are starting to post open positions. If you want to make sure you get the job you really want, now is the time to start your search. If you haven't read The Best Resources for Free Travel, I recommend you begin there to search for tons of summer job opportunities. But here are a few more great resources that I've found over the last few months to help you out even more.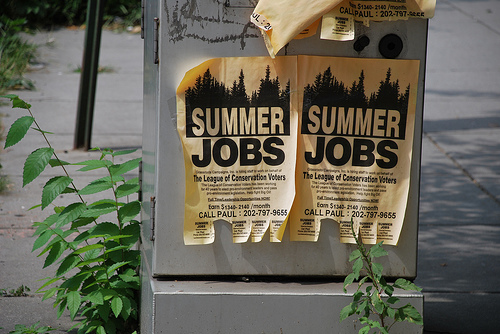 Care to visit Australia? Of course you do! This is perhaps an unusual way to do it, but there are plenty available short-term harvesting jobs if you enjoy working outside and picking fruit under the Australian sun. The search feature is broken down by region; some regions have no jobs listed while others have many, and some of the jobs don't require you to have harvesting experience. It seems like a WOOF experience, but paid.
If you love working with kids, consider being a live-in Au pair for an international family. You'll receive food and housing and some pay, you'll play with kids all day, and in your free time you can explore a new country. Families more often hire girls than guys, though.
On this missionary project in Africa you will be teaching impoverished students English (and the gospel- count me out) over the course of a 4-12 month period. It is unclear to me whether these are paid or volunteer positions. My friend used this organization to have a wonderful experience in Tanzania.
Volunteer to teach, organize, farm, and more in Ghana. A friend of mine spent quite a bit of time in Africa through this program. Although it was a great learning experience, there were many hardships involved with living where he did and he didn't enjoy it as much as he expected. With all of these resources, don't make a commitment lightly; volunteering in Africa, or anywhere, while something to be proud of and excited about, is not something that is easy to do.
Another job search site for boaters. As boat owners, the people who post job openings on this site are usually traveling into the far and exotic corners of the world. They are looking for workers to join them to do fill jobs from deckhand and watch-keeper to photographer, diver, and cook.
Become a teacher and a mentor at a Orphans Home in Nepal. This organization seems like it will be very personal when arranging a volunteer trip for you. Since it is a small site focusing on a very specific geographic area, it is simple, easy to navigate, and I imagine it would be easier to get in contact with a real person to ask questions.
You can never have enough boating job-boards, since each one has only a limited number of available jobs. This is another standard boating/sailing crew site, so if you have some experience on a boat you might be able to hitch a ride to an exotic destination.