Iconic Brazil Landmarks You Need To See
Brazil is one of the largest countries in the world that it occupies almost half of South America and without a doubt, it's one of the most fascinating nations in the world. It is packed with a rich history, religion and the best of all, cultural landmarks that reflect the times gone by from its days during the Portuguese colony up until its modernization campaigns during the 1950s.
So if you're visiting Brazil for the first time, you must see these landmarks to make sure you will have an unforgettable and fantastic experience. Please keep on reading below.
1. Iguazu Falls
Iguazu Falls are one of the most stunning sights in the world; no wonder why it is being visited by more than one million visitors every year. It has been selected to be one of the New Seven Wonders of Nature campaign in the year 2011 too.
Iguazu Falls, which literally means 'big water' in native Guarani Indian language, is a spectacular waterfall where the water cascades as far as your eyes can see. It's actually almost three times wider and about twice as tall as the Niagara Falls. It spans an area of 2.7 km wide and is composed of a system of 275 waterfalls or cataracts. The tallest of these waterfalls is named the Devil's Throat which drops by into more than 80 meters.
If you want to visit the Iguazu Falls, plan to spend at least two to three days at the falls. This will give you enough time to explore both sides of the National Park. It would definitely be fun to experience the falls from both sides.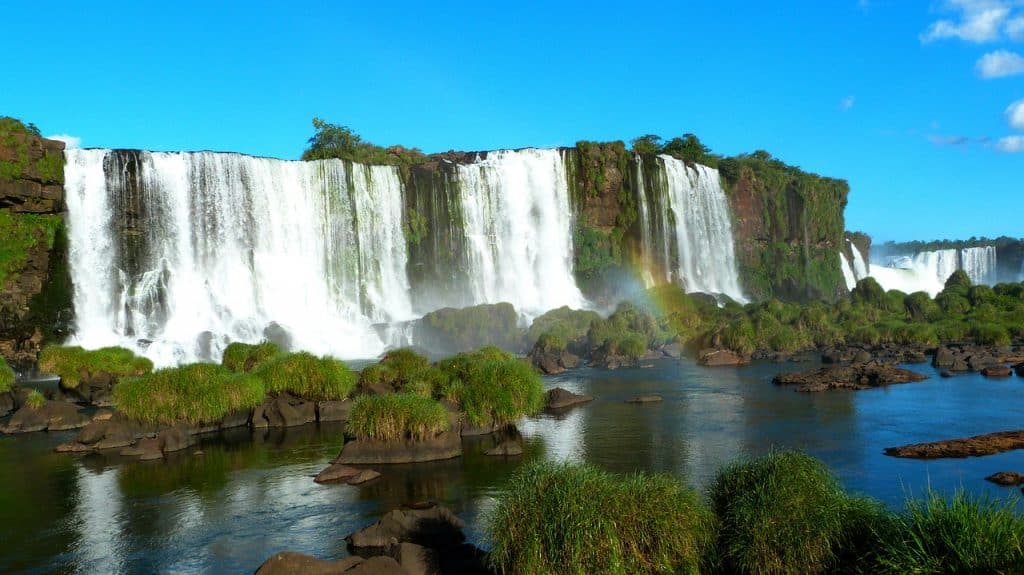 2. Christ The Redeemer
Christ the Redeemer is an Art Deco statue of Jesus Christ that can be found in Rio de Janeiro, Brazil. It is one of the biggest statues of Jesus and is even the tallest Art Décor statue across the globe. It was created by the Polish-French sculptor Paul Landowski and was built by Heitor da Silva Costa, a Brazilian engineer. This monument stands tall at 30 meters while its arms stretch up to 28 meters; it is estimated to be about two-thirds the height of the Statue of Liberty.
It can be found sitting at the peak of Corcovado Mountain located in Tijuca Forest National Park that overlooks the beautiful city of Rio. It did not only became a cultural icon of Brazil but has also been a symbol of Christianity all over the world. It has also been listed to be one of the New Seven Wonders of the World together with the Great Wall of China, Machu Picchu, etc.
Every year, Christ the Redeemer welcomes about two million visitors. If you're planning to visit this iconic statue, I suggest you avoid going during Christmas and Carnival period as these are the most crowded times. You might just find yourself knocking for space just to see the symbolic statue.
Weekends can also be very busy, so I suggest you pay a visit during weekdays before 8:30 AM or later in the afternoon like after 3:30 PM. There will be fewer crowds and you will get to enjoy better visibility and less heat.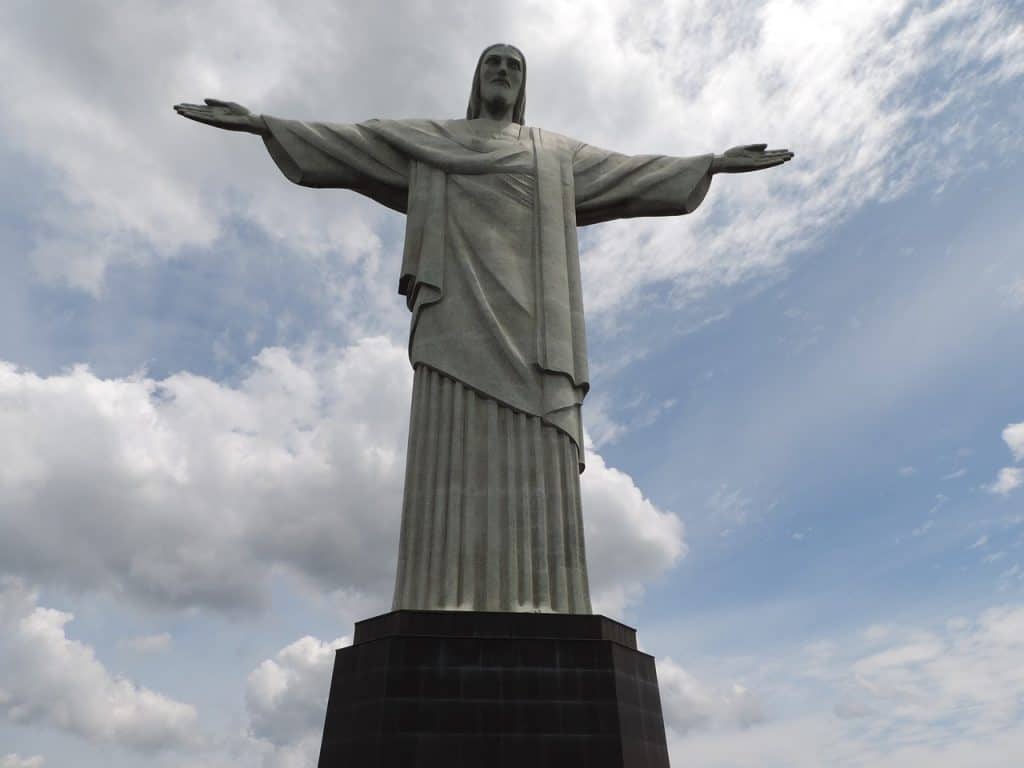 3. Escadaria Selarón
The Escadaria Selarón, also known as the 'Selaro Steps', is such a hidden gem that can be found in between the bohemian neighborhoods of Santa Teresa and Lapa, the busiest areas in the city, thanks to its artistic scene as well as the nightlife it offers.  
Anyway, Escadaria Selarón is composed of 125 meters of steps that have been covered with thousands of pieces of gorgeous bright tiles. This is the labor of love of the artist Jorge Selarón, who was a traveling painter until he finally decided to settle in Rio.
He began to renovate some steps randomly and used the tiles from all over the world. He started by using small pieces of handmade pottery he had done himself, later on, he eventually began to receive pieces as gifts from his friends as well as fans and visitors who supported his work. Some people from all over the world even started sending tilings. As a result, you will get to enjoy today 215 stunning and colorful steps. 
4. Niteroi Contemporary Art Museum
Niteroi Contemporary Art Museum has been designed by Oscar Niemeyer, a Brazilian architect, with the aim to symbolize the rise of futuristic architecture. Its futuristic design will absolutely blow you away. It looked like a flying saucer that has just landed on the side of the cliff.
What makes it even more stunning is that it is located in a scenic spot over the bay from downtown Rio de Janeiro that allows you to enjoy the city's fabulous view. Inside the museum, there are three floors along with a hexagonal main hall for its exhibits.
The best time to visit the Niteroi Contemporary Art Museum will be on Friday and Saturday nights so you can catch local music acts. You will also get to experience the Cultural Exchange Fair in the museum when you visit on the first Sunday of the month while admission is free during Wednesdays.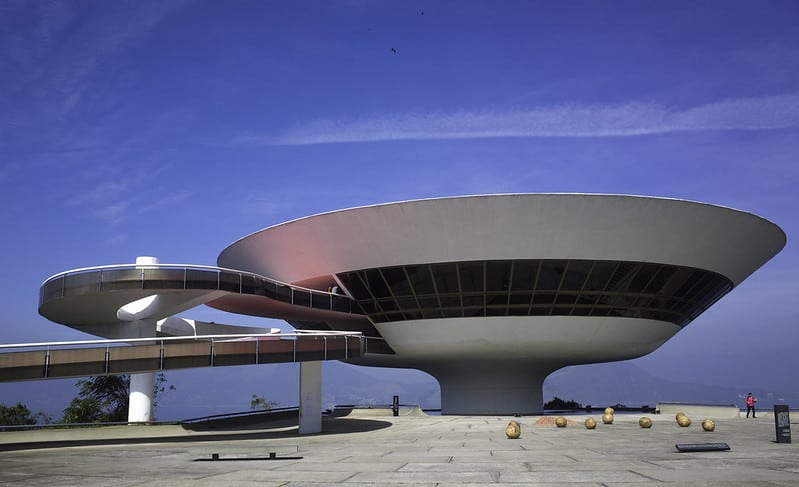 5. Brasília's Modernist Architecture
Brasília's Modernist Architecture is another masterpiece of Oscar Niemeyer. Together with Lúcio Costa, they made this ambitious plan to replace Rio de Janeiro as the country's capital with the new city of Brasília's. They carved this architecture out of the wilderness and would you believe they've done it in just about three years?
Today, Brasília's Modernist Architecture became a showpiece. It has unique architecture and this will be the reason why this place will always hold a special place among the Brazilian cities. In fact, it has been named a UNESCO World Heritage City since the year 1987. The city's main tourist attractions are the Praça dos Tràs Poderes, Panteão da Liberdade (Pantheon of Freedom), Catedral Metropolitana Nossa Senhora Aparecida, Palácio dos Arcos and so much more. 
The Catedral Metropolitana Nossa Senhora Aparecida or Cathedral Brasília is one of the most popular circular building in the city. It has 16 curved white concrete columns that rise to support a glass roof. The columns resemble outstretch hands that are trying to reach up toward heaven while the glass ceiling that will flood the space with daylight. There are also angel sculptures hanging around.
Palácio dos Arcos is also very stunning. It is being surrounded by gorgeous gardens designed by a Brazilian landscape architect. But most tourists find Monumento JK to be the finest work of Niemeyer. It's a memorial to President Juscelino Kubitschek, the founder of Brasilia and is responsible for the city's economic upswing.
Lucky for you, there are now several flights to Brasília from all the major Brazilian airlines like Azul, Avianca, GOL and Latam. You can also travel using a well-developed bus network within Brazil, though the journey can be very exhausting since roads are not in great condition.
6. Pão De Açúcar (Sugarloaf Mountain)
The view from Pão de Açúcar or most commonly known as Sugarloaf Mountain will totally take your breath away, you will enjoy the city's view unfolding before your eyes. This 600-million-year-old peak will help you to catch a glimpse of the most iconic attractions in Rio, like the Christ the Redeemer as well as the Copacabana along with amazing panoramic views. 
There are three ways you can reach the mountain's top:
Taking a cable car.

This will leave from Urca's ground station and will run along the 1,400-meter route to Sugarloaf Mountain. It has a stopover at Morro da Urca which is a smaller peak that is located between the two points. 

What's great about taking the cable car is that it offers 360-degree views of the city. The ascent will only take about six minutes which is already more than enough for you to capture plenty of wonderful images. Total travel time of the cable car is about 20 minutes and it will be open daily between 8 AM and 9 PM.

A combination of hiking and taking the cable car.

If you have plenty of time, you can hike up to Morro da Urca and take the cable car from there. Don't worry, the hike is pretty easy and will only take about 30 to 40 minutes and the trail is just gorgeous. It is surrounded with Atlantic Forest's tropical vegetation and you will be accompanied by butterflies, lizards and so much more.
Climbing.

If you're the adventurous kind, you can climb your way up to Sugarloaf Mountain. There are 40 routes to the top that you could choose from, each has difficulty ratings. If you're a beginner you can start with the easiest route in Costao but if you want more challenge, you can take Coringa which has satisfied a lot of experienced climbers.
In addition to the panoramic views, there are also a number of attractions you can enjoy. For instance, there's a relaxing little beach called Praia Vermelha. It can be found close to the ground station and it offers water sports like canoeing, paddle boarding, and gorgeous natural surroundings. It's the best spot where you can take a dip before climbing up.
7. Copacabana Beach
Copacabana is another visit-worthy district in Brazil and it long stunning coastline and rolling hills with the blue sky as its backdrop has been a popular landmark of the country. Its coastline of white sand actually stretch up to three miles and it has been famous for excellent surfing. 
It has also been a vacation hot spot that is being surrounded by more than 60 hotels. One of the most popular spots in Copacabana is the Arpoador which is a Portuguese word that means "harpoon thrower". This is one of the best places to fish and surf in Copacabana, thanks to the rock outcrop that makes decent waves for surfers all year round. It will also give you a great view of the sea. But I suggest you get here during weekdays as there a lot of people who visit during weekends.
New Year celebrations in Copacabana Beach has long been a tradition. There will be thousands of people who will flock to the beach just to catch a glimpse of a spectacular fireworks display over the sea. There will also be fun concerts all over.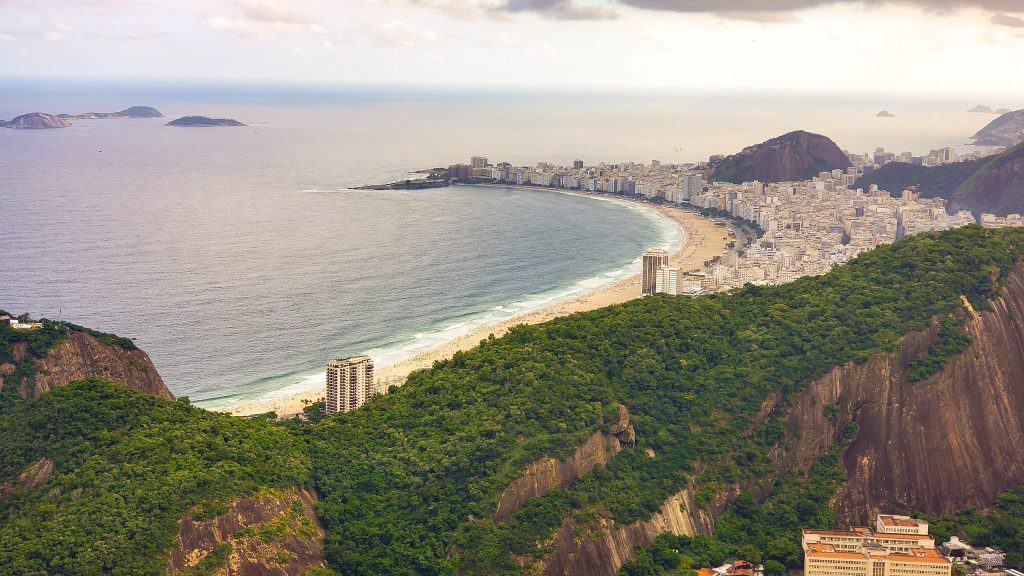 8. Petropolis
Petropolis is a popular tourist destination that can be found 68-kilometer away from Rio de Janeiro. It has been famous for its gorgeous buildings and pleasant climate all year round.
Petropolis is actually the former home of the last emperor in Brazil, Pedro II. He played a significant role in the imperial past in the country, which is still evident all through the city like the fascinating museums, historical architecture and so much more.
For instance, the Imperial Museum of Brazil, which is once the former emperor's summer home, has become the most visited museum in the area. It's a huge white and pink building that is composed of historical displays like a big golden crown as well as an exhibit of several contemporary arts. Once you're inside, you will be required to wear a pair slippers they will provide, this is to keep the historical floor protected. It is also not allowed to take photos inside.
Another famous attraction in Petropolis is The Serra dos Órgãos National Park, which is a big national park. It is composed of the Serra dos Órgãos mountain range and a protected natural freshwater sources of the city. There are also more than 10 peaks that are higher than 2,000 meters as well as a unique rock formation that resembles a big index finger pointing to the sky, called Dedo de Deus or God's Finger.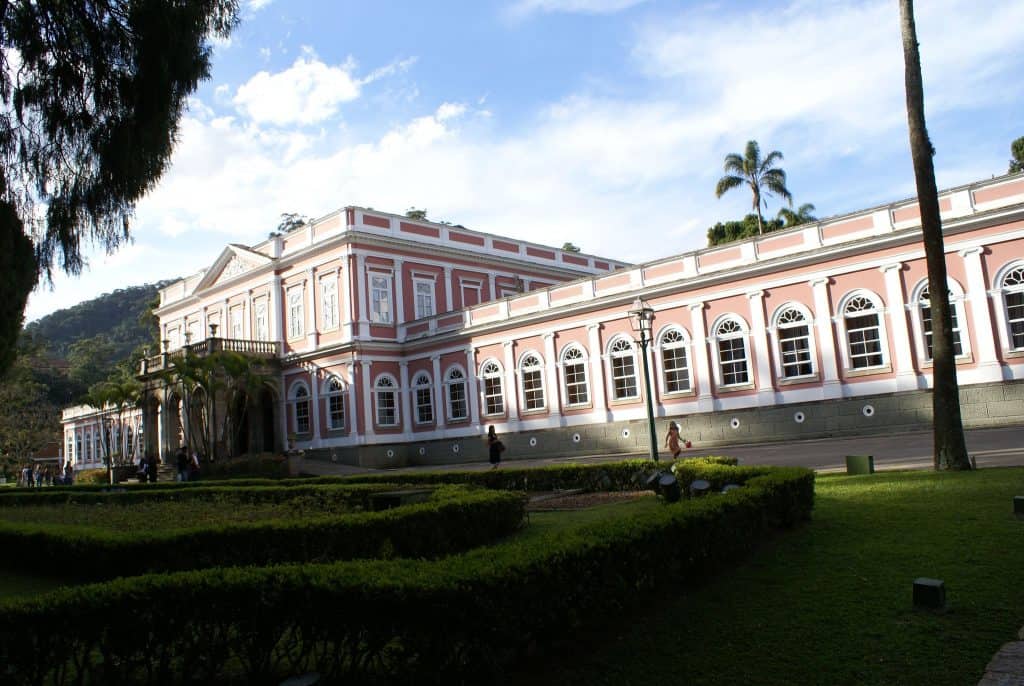 Conclusion
Brazil is absolutely an exciting cultural destination and a tropical paradise. It boasts attractions that will suit whatever your tastes are and the ones I mentioned above are the landmarks that you should not miss. So I guess it's time you begin planning your next adventure, what do you think?
Anyway, if you still have any more question, feel free to leave it in the comment section below and I'll get back to you as soon as I can.