Camp Staff at Farm Wilderness, Vermont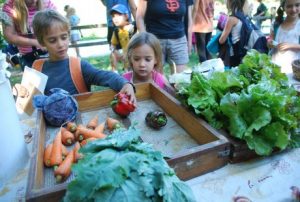 At Farm & Wilderness, activities grow out of our closeness to the land and each other. Campers delve into the farm and garden, the woods and lake, and are living within a close-knit community. The strength of the F&W program is that we use daily activities and the simple work of daily life as a road to the intangible skills of living respectfully and happily together.
Activity areas vary, depending on the emphasis of each individual camp, and include farm projects, arts & crafts, swimming, outdoor living skills, canoeing, carpentry, rock climbing, cooking, and music. Each camp offers structured activity periods along with free choice. Campers have opportunities to learn basic skills in a variety of activities and gain proficiency in those that interest them.
Trips are an integral part of the F&W experience, including community service trips, rock climbing, and wilderness travel by foot and canoe. On trips, campers build confidence and competence. They return to camp filled with pride at their accomplishments and feeling close to their trip group.
Our programs are managed by year-round professionals in experiential education, wilderness tripping, land stewardship, and organic farming. All summer camp counselors are skilled in particular program areas. They are teachers, college and graduate students, and professionals with a flexible summer schedule, in a range of ages. Some returning staff have been working at Farm & Wilderness for almost 25 years. Our summer staff to camper ratio is at most 1 to 3. Before each camp season begins, the counselor staff undergoes extensive training, including a six-day skills week and a nine-day staff week.
Job Type: Camp Staff
Location: Vermont, USA
Salary: Based on experience
Season: Summer
Learn More/ Apply At: Farm & Wilderness

ID:EN