Camp Staff at Pali Adventures, California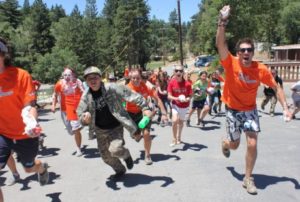 At Pali Adventures, each camper chooses to be a secret agent, rock star, fashion designer, broadcast journalist, executive chef or Hollywood stuntman, for a summer sure to be filled with fun, excitement, and memories to last a lifetime.
Being a counselor at a residential summer camp is unlike any job you have had, or any job you will ever have. Being "on-duty" 24/7, and a role model for campers aged 8 – 16 is the hardest job you will ever have. Can you put the needs of the campers and camp ahead of your needs? You will be responsible for the health and safety of the campers in your charge. You will be responsible to make sure they wake up on time, dress appropriately for the weather, eat properly, drink water, put on sunscreen, behave appropriately in a cabin setting, make great friends, attending the correct activities….
And so much more! Can you perform at your best and smile while you are both physically and emotionally exhausted? Oh, you will also be teaching a specialty, a variety of different electives, dressing up for the evening activity and of course making sure each camper is having fun and feels that you are there for them. And your name was pulled out of the hat and everyone in camp is throwing water balloons at you all day. Are you a "glass half full", always looking for the positive kind of person? We are looking for role models. We are looking for positive people from around the world to help us create the best summer experience possible for campers ages 8-16 years old! You will be working unimaginable hours and doing things that you will think are insane.
Job Type: Camp Staff
Location: Running Springs, California, USA
Salary: Based on experience
Season: Summer
Learn More/ Apply At: Pali Adventures

ID:EN