Conservation Volunteer at Aride Island Nature Reserve, Seychelles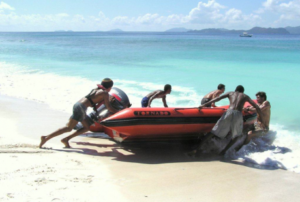 It is no exaggeration to say that Aride is one of the finest tropical island nature reserves in the world. For the right volunteer candidate this is an exceptional opportunity, possibly the experience of a lifetime and tremendously rewarding. However, please be aware it is no picnic. Living conditions are basic, the work can be demanding and the climate can be a drain on those unaccustomed to the tropics. It is not for the faint hearted. However, for those with the right aptitude and interests working as an Aride volunteer is an exceptional opportunity. We welcome young graduates who wish to pursue a career in conservation, individuals with a conservation interest. Volunteers should possess a degree in a biological science and/or useful practical skills or IT skills.
The working day usually starts with a meeting at 7:00 am, during which the tasks and schedule for the day are discussed. A typical day might include monitoring activities, launching the boat, raking, removing invasive plants, data entry, tourists (especially in the NW monsoon), or maintenance activities. The working day ends at 5:00 pm, and includes a two hour lunch break from 12:00 to 2:00 pm. Usually there are snack/tea breaks in the morning and afternoon as well, but the exact schedule depends on tasks that need to be done.
Volunteers assist with all aspects of the island's work including scientific monitoring and research, maintenance of the paths, buildings and other infrastructure, launching and landing boats, patrolling the island and leading tours for visiting tourists.
Job Type: Volunteer Conservation
Location: Seychelles
Cost To Volunteer: Cost of flights and food. Accommodation provided. £375 stipend toward cost of flight to Seychelles.
Season: Summer Fall Winter Spring
Learn More/ Apply At: Aride Island nature Reserve
ID:EN