Top 4 Famous Cities in Italy to Visit
Italy is fascinating, intriguing, and always surprising. It's overwhelmingly loaded with beautiful landscapes, thousand-year-old buildings, and breathtaking scenery. It is also the home of many of the world's greatest artists and architects. 
Italy is comprised of 114 cities, each has unique characteristics and stunning views to offer. Obviously, it's impossible to roam around the country in just a week. So, we've picked the top five famous cities in Italy that you should visit in your next Italy vacation. 
1. Rome
Rome, beautiful as ever. It's enchanting, striking, and always oh-so-beautiful. There are lots of gorgeous spots to see in Rome. You can also immerse yourself to activities that will surely take your vacation to the next level. Rome, being the capital city of Italy, is always bustling. Its marketplaces are filled with tourists and friendly locals. 
This sprawling cosmopolitan city has a significant influence on the world's art, architecture, and culture. Ancient ruins such as the Colosseum and the Forum tells us the story behind the power of the former Roman Empire. 
It is also in Rome where the great and massive St. Peter's Basilica is situated. The iconic cathedral is the center of Catholicism and has long been attracting tourists from all around the globe. 
The world-famous Vatican Museum keeps some of the significant masterpieces created by world-renowned artists. It is where Michelangelo's Sistine Chapel frescoes are enshrined. 
Here's the best itinerary for those who only have a day to explore Rome:
First, visit the famous Sistine Chapel. Then, feast your eyes on the incredible classical and Renaissance art masterpieces at the Vatican Museum. Next, go straight to St. Peter's Basilica before heading to Castel Sant'Angelo. 
Take a 5-minute walk to reach the iconic temple, Pantheon. Walk 10 more minutes and take a break at the stunning Trevi Fountain. Head straight to the Colosseum, then to the Roman Forum.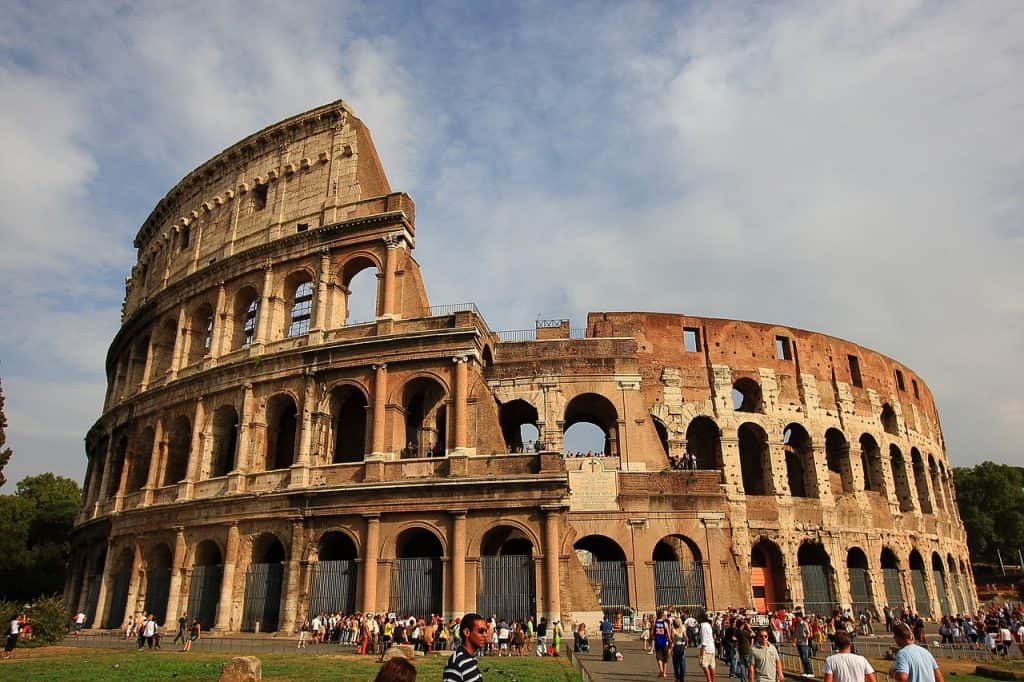 2. Florence
Florence is another gem of Italy. This capital city of the Tuscany region in Italy is home to several masterpieces of Renaissance art and architecture. 
One of the most iconic landmarks in Florence is the Duomo, an enormous cathedral with a terracotta-tiled dome designed by Brunelleschi and the imposing bell tower by Giotto. 
It is also in Florence where the Galleria dell'Accademia sits. It houses the famous David sculpture by Michelangelo. 
Another world-famous sight in Florence is the medieval stone-arch pedestrian bridge popularly known as the Ponte Vecchio. 
So what are the things you could do in Florence that can be done in just a day?
Your first spot to visit must be the Cathedral of Santa Maria del Fiore. It is a famous Italian landmark known for its red-tiled dome. Next stop is the Basilica of Santa Croce, a neo-Gothic Franciscan church that keeps the tombs of Galileo and Michelangelo. 
Then, walk 5 minutes more to reach Piazza Della Signoria and Palazzo Vecchio. Relax yourself by viewing a vast collection of Primitive and Renaissance paintings at the Uffizi Gallery. 
After that, head straight to Ponte Vecchio to buy souvenir shops. A good way to end your day trip is by visiting Pitti Palace and walking around the Boboli Gardens. 
The peak travel season is from April to July.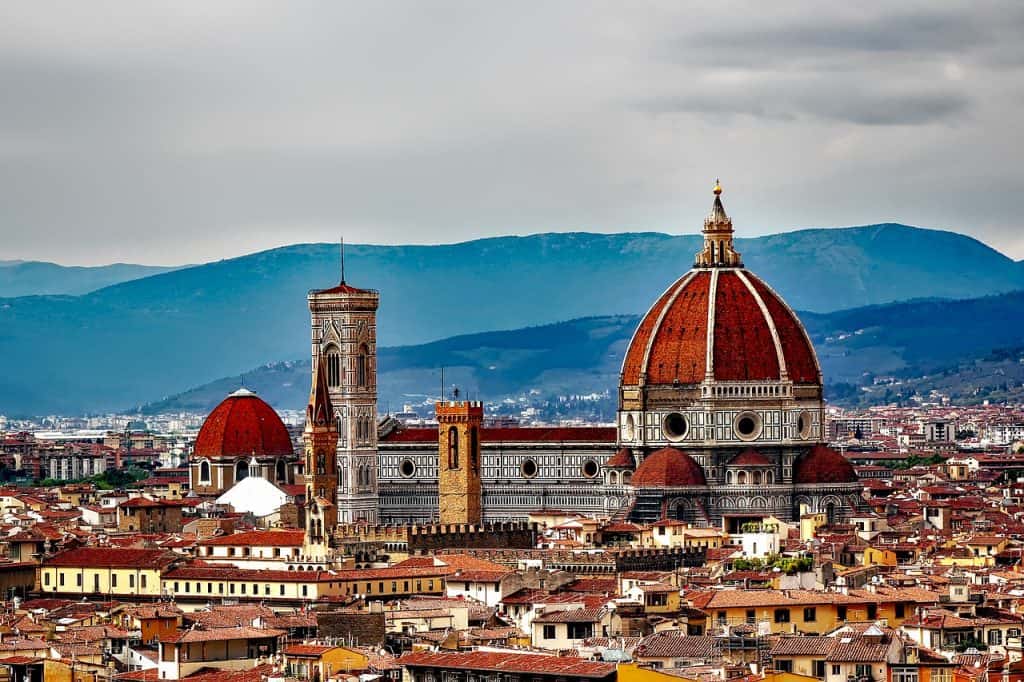 3. Venice
What's really interesting about Venice is that it has no roads, only canals. That means the main transport system is by riding Gondolas and waterbus.
Venice is built on over 100 small islands in a lagoon in the Adriatic Sea. As you glide through the canals, you will be mesmerized with the extensive Renaissance and Gothic palaces that have been long part of the city's skyline. 
Piazza San Marco is the bustling central square of Venice. Within its ground is where St. Mark's Basilica is situated. 
The famous Gothic Doge's Palace features picture-perfect pink-and-white marble. Just a quick Gondola ride from the piazza, you will reach the Peggy Guggenheim Collection, a gallery with vast collections of modern art.
Here are the best places to visit in the city if you're only planning for a day trip:
The Grand Canal is a channel in Venice, so it's your main starting point. Then go past through the ornate-covered 16th-century stone Rialto Bridge. Next, go to St. Mark's Campanile and take photos of the imposing 16th-century square cathedral tower. 
Stop by St. Mark's Square and stroll around. Ride a gondola again and snap a photo of the famous Bridge of Sighs before entering Doge's Palace. 
Before the day ends, visit St. Mark's Basilica to appreciate its intricate cavernous gilded interior. You can also explore the on-site museum. Then, visit Ca' d'Oro, a famous Venetian-Gothic palace before heading to Murano, your last destination for the day.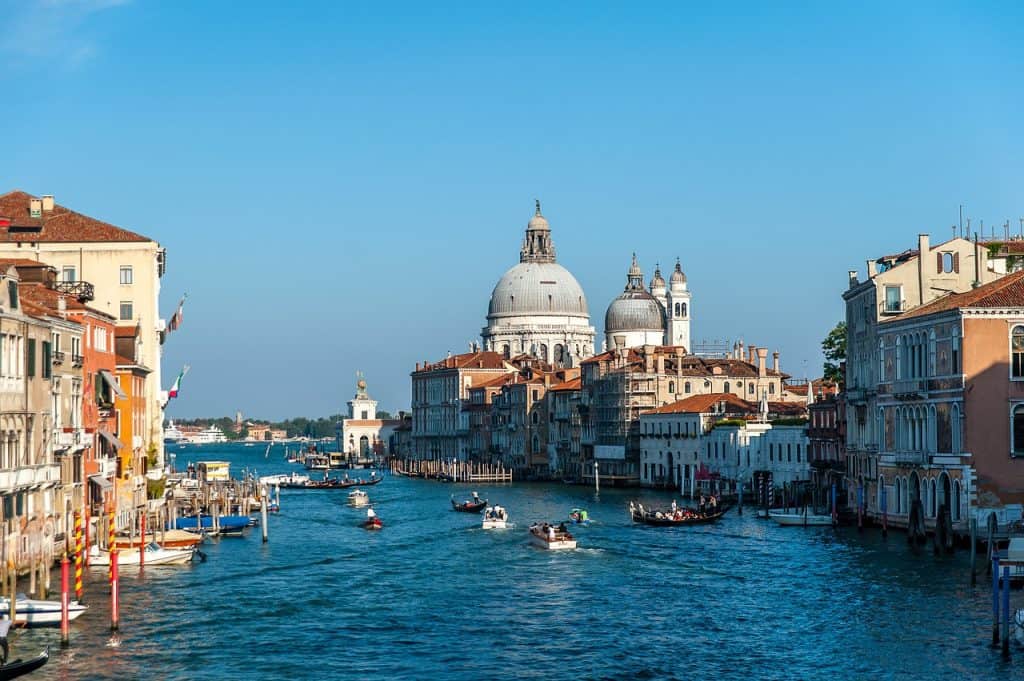 4. Milan
The energetic metropolis of Milan is a global capital of fashion and design. It is also in Milan, where you will find high-end restaurants and shops. 
There are lots of tourist attractions to see in Milan. The Gothic Duomo di Milano cathedral and Santa Maria Delle Grazie is in Milan, keeping the famous work of Leonardo da Vinci's mural The Last Supper. 
Some of the best places to visit in Milan are Galleria Vittoria Emanuele II, Sforzesco Castle, Teatro Alla Scala, Pinacoteca di Brera, and Arco della Pace. 
Is it possible to explore the city of Milan in just a day? Yes. 
Here's an itinerary we suggest:
Your starting point should be in Santa Maria Delle Grazie. Take some time to roam around and appreciate the Terracotta Renaissance design of the church. You will love the elaborate Gothic interior of the cathedral. You will also see the famous The Last Supper mural by Da Vinci. 
Walk for about 10 minutes, and you will reach San Maurizio al Monastero Maggiore. Spend 40 minutes to explore the historic 16th-century church and former monastery. 
Then, head straight to Sforzesco Castle where you will be stunned with the impressive Medieval-Renaissance fortress with historical museum and masterpieces by Michelangelo and Da Vinci. 
Just 5-minute walk away is the Sempione Park — a perfect spot to rest and unwind. Once fueled up, go to Arco Della Pace and take an obligatory jump shot.