6 Seattle Landmarks You Shouldn't Miss
Whether for romantic getaways or family-friendly exploits, Seattle has a unique appeal that just can't be shaken off. Standing at the forefront of technological innovation, this jewel of the Pacific has amazingly morphed from a rather sleepy Northwestern city into a flourishing metropolis— bustling with life, energy, and excitement— yet managed to keep its character, lifestyle, and lushness seemingly unperturbed. Check out these five must-see Seattle landmarks on our list that will definitely beckon you to a day trip or a revisit, whichever part of the travel spectrum you are on. 
Museum of Flight
If the word "Seattle" only conjures up images of Starbucks coffee, then you may have been shortchanged all along. The city is also home to world-renowned museums such as this one on our list. The Museum of Flight boasts a vast array of air and spacecrafts, flight simulators, the original Boeing Aircraft factory, and a host of interactive exhibits.
This Seattle landmark features an indoor Great Gallery, which provides onlookers with the excitement of watching many of the aircrafts suspended in flight. Its Lear and Space galleries are intended to highlight both the history and future of space travel. If you're a history buff, you will be mesmerized with what you will find at the Personal Courage Wing, which is dedicated in remembrance of the crucial role aviation had played during World War I and II. 

Chihuly Garden and Glass
Just because Chihuly is a lesser-known gem in the Emerald City's treasure trove of famous places doesn't mean you can afford to miss it. Endearingly named after the world-renowned glass sculptor, Dale Chihuly, the museum houses a plethora of whimsical installations made of colorful glass pieces that have been shaped in stupendously imaginative ways, gravitating throngs to leave them awe-inspired and wanting to see more. The museum is divided into three sections: a centerpiece glasshouse, interior galleries, and an outdoor garden.
Join a 60-minute Yoga under Glass session and ignite your senses; or dance your worries away in the magnificently illuminated Glasshouse. Either way, what you initially thought would just be for killing the time is bound to end up being the highlight of your day.
Many visitors find the admission fee quite on the steep side, so it's recommended that you go there after 6 p.m., as the rate is known to be relatively lower at this time.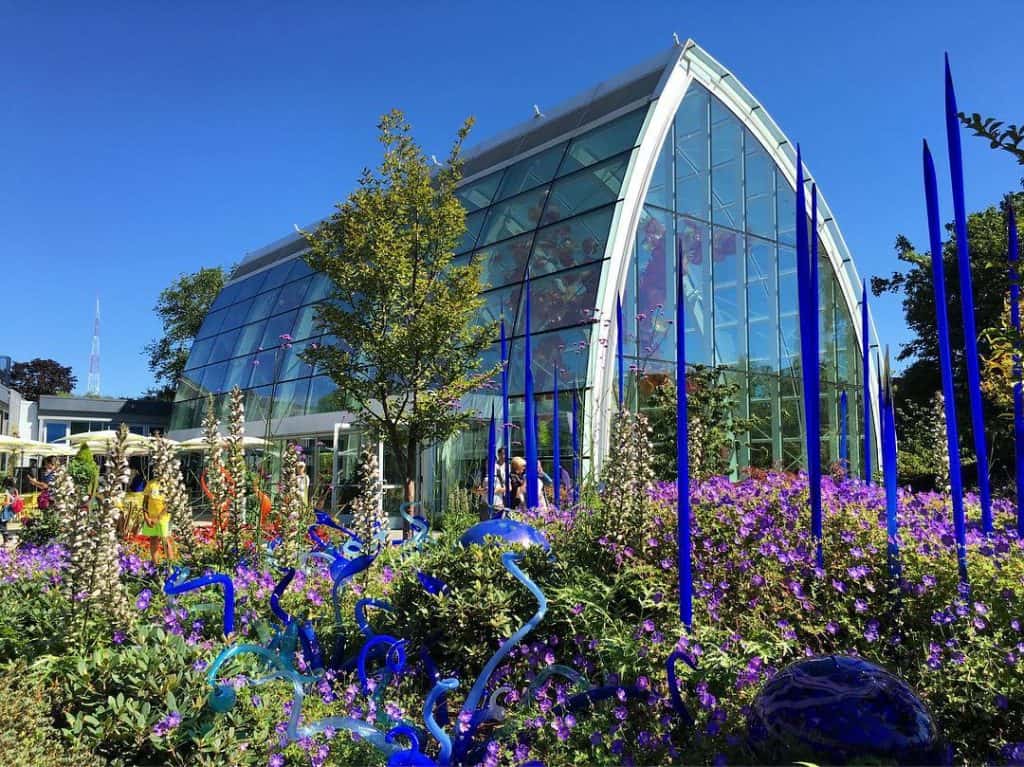 Myrtle Edwards Park
There's this fringe of trees and lawn nestled along Elliott Bay that you might find an idyllic backdrop, especially if you're the pensive type and you want to go for an uninterrupted jog or stroll. Sometimes erroneously referred to as Elliott Bay Park due to its apparent proximity, the park was named after the city's iconic environmentalist in the 1960s.
This Seattle landmark sprawls from next to the Olympic Sculpture Park and stretches all the way to the Interbay area, between Magnolia and Queen Anne.  It features 1.25 miles of meandering biker- and pedestrian-friendly pathways, picturesque views of the Mount Rainier, Olympic Mountains, and Puget Sound, and easy access to more bike pathways onto Magnolia.

Seattle Aquarium
If you're traveling with your brood, you just can't afford to pass up on the opportunity to get a mesmerizing up-close encounter with sea creatures of the Pacific Ocean: giant clams, puffers, sea otters, among a myriad of others. Opened in 1977, the Seattle Aquarium has gone a long way in delivering both unique hands-on marine experience and preservation education to its visitors. If you want to see marine animals that look genuinely happy in their environment, heading out to the Seattle Aquarium is your best bet. This Seattle landmark has become increasingly popular especially among environmental advocates as it's unlike the rest of its kind—it puts its focus on the health and well-being of marine creatures within its confines.
It's massive 2007 renovation— which included the installation of a 140,000-gallon exhibit— gives onlookers a breathtaking insight into the beauty of Puget Sound underneath. The aquarium's lobby area features a huge glass window, fondly called the
"Window on Washington Waters." It provides a spectacular view of a large variety of fish species and sets the mood for further exploration. Farther into the structure is an underwater dome that has a sitting area wrapped around its perimeter, allowing visitors to take their time to relax and peek through the glass as the different marine creatures pass by.

Pike Place Market
Your Seattle trip won't be complete without a visit to the Pike Place Market. Touted as Seattle's melting pot of specialty foods and fresh produce, the market was built in 1907 with the noble intent of connecting citizens and farmers. Over the years, this famous place in Seattle has sustained its "Meet the Producer" tradition by putting up butcher shops, fish markets, year-round farmers' market, bakeries, produce stands, among a bunch of other small-time enterprises.
The Pike Place Market's nine-acre expanse is abuzz with 225 local artisans selling their goods, dozens of farmers, music-playing street performers, the popular fish-tossing tradition, and the list goes on. The market has over 80 restaurants—from takeout donut counters to Michelin-starred fine-dining places—to satiate your appetite and make you enjoy dishes that you may not find elsewhere. 

Seattle Great Wheel
If you don't belong to the faint-of-heart society, then go ahead and take your chance to see the entire Seattle—the adrenaline-pumping way!  Standing 175 feet and weighing 170,000 pounds, the Great Wheel is embedded with over half a million LED lights. The best time to go is on weekends, as this is when they hold astounding light show displays; whereas on midweeks, they just typically illuminate only the ring beam. Keep an eye out on their themed light shows on holidays and game nights. 
This Seattle landmark also does custom light shows, which makes it a majestic venue especially if you're tying the knot, wanting to do a baby shower, or just having an event to celebrate with your friends and families. The place can arrange an array of colors and decors to go with the lights.