This is a guest post by Frances Atkins.
Your first thought for travel after college may be getting as far from home as possible to test your boundaries and escape your comfort zone. I'd recommend you spread your wings and head to the Mediterranean island of Cyprus if you want to go somewhere a bit different, challenge yourself and have a love of the great outdoors.
The island is packed full of lush, Mediterranean landscapes and the year round sunshine means you can get to grips with mountains, forests and wildlife whenever you make the trip out. In my opinion, it's one of the most beautiful places in the world and you're never more than an hour or so from the next adventure.
As it costs very little to hike and explore by foot, you can set your own pace. If you want to make the most of Cyprus, visit five of its best natural sights and enjoy unforgettable views.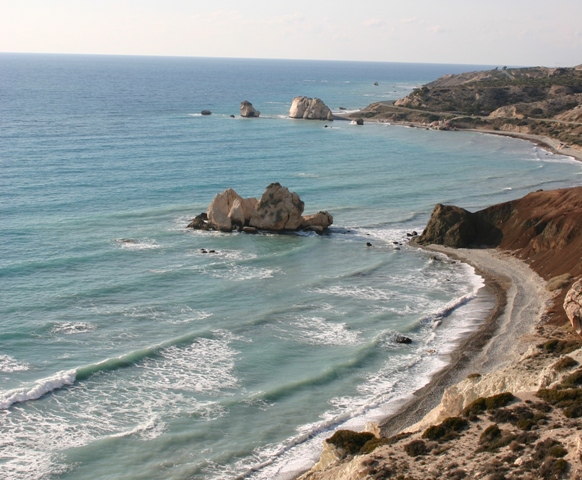 1. Paphos forest
Paphos on the south-west of the island hosts an absolute dream forest; everywhere you look is green and bursting with life. Both Bonelli and Goshawk eagle species still breed here in the wild and, closer to the ground, you'll find indigenous lizards and snakes. As you take in the huge range of the Brutia pine trees, you can stay within the forest boundaries and walk from sea level to a peak of over 1000m for beautiful panoramic views. Fuel up with local Paphos food, such as pork afelia, a meat and rice dish flavoured with coriander seeds.
2. Troodos mountains
Drink from freshwater streams surrounded by colourful wildflowers and the sound of bird calls. This is a 'time-out' location where serenity is king and your troubles seem very far away. The highest mountain in the range is Mount Olympus, which is nearly 2,000m tall. The varying heights mean you can be looking up on a sunny day and see snow-capped peaks that'll take your breath-away. Horned moufflon, a species of wild sheep that only exist in Cyprus, also graze on the surrounding countryside.
3. Limassol Salt Lake
These landlocked bodies of water have more salt than sea water and create a raw Eco-system that looks almost prehistoric. You'll get to see thousands of wading birds during their migration seasons; to witness a "flamboyance" (group) of flamingos, travel in the winter months. I'd recommend taking either a pair of sturdy shoes or wellington boots for the rough terrain.
4. BLUE Flag Beaches
Walking, hiking and exploring earn you time to relax and recuperate on some of the best, environmentally protected beaches in the world. Nissi is the most popular beach but Aphrodite's Rock is legendary. It is said if you swim around the rock three times you're meant to attain eternal beauty! With that in mind, you can do your part and help preserve the natural beauty of Cyprus by cleaning up any rubbish you may find. Alternatively, you can join a beach clean-up scheme, which is a good way to give something back as well as getting a chance to meet locals.
5. Endangered species of turtle
If you're keen to help the wildlife of the island as well as enjoying it, then volunteer to work with turtles. There are several societies that would be happy for your services in protecting nesting female Green and Loggerhead turtles, which lay their eggs on the island's beaches (including Paphos and Ayia Napa). As slow, vulnerable creatures, they need to be kept away from predators and it's a once in a lifetime experience ensuring the survival of their next generation.
Tips
When you're out there, drink plenty of water, especially when walking long distances. I'd also suggest taking lots of photos of the rare animals and wild flowers, as friends and family will be keen to share your experiences. Most importantly, stay outdoors as much as you can to get real-life experience from your travels.
Frances is a travel writer based in the UK who is a destination expert for lowcostholidays.com. She enjoys cycling and is looking to explore Spain in the summer.