How to Make Drinking Chocolate
Drinking chocolate is the drink of the gods, and for a good reason. Unlike hot chocolate, drinking chocolate is thick and rich because it is made from bits of actual chocolate. You can buy canisters of drinking chocolate mix in exotic flavors, but it is just as easy to make it yourself- in two steps. The only ingredients are milk (or I have heard you can use water instead, but I don't think that sounds very good) and chunks of chocolate.
1) Heat a small amount of milk on the stove. Less is better for the richness of the drink- you can always add more.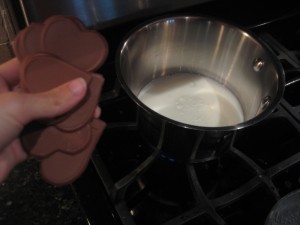 2) Add chunks of your favorite chocolate. I used my favorite Norwegian chocolate. Stir until it melts. As rich as it was, true drinking chocolate is richer.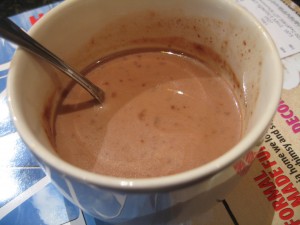 If you want you can spice it up with cinnamon, nutmeg, and vanilla extract, or be daring and throw in some cayenne and chili pepper. Then drink!
Here are more tasty sweet things you can try!