How to Pinterest Bait: Get High Quality Traffic From Pinterest
By now most of you have heard of Pinterest, the online pinboard site where you can collect beautiful images and ideas on themed pin boards to go back to later. The majority of the sites users are young women, and I have just recently started using Pinterest as a way to attract more people to my blog.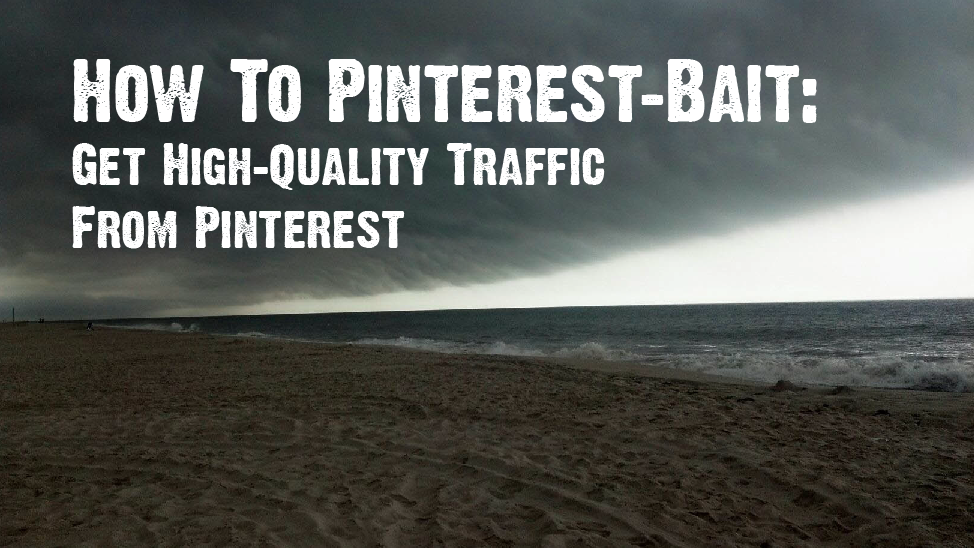 It started completely by accident. My cousin pinned an image from my site to Pinterest, and it got a few re-pins (like a re-tweet on twitter or a share on facebook). From this, I saw the traffic to my blog rise dramatically for a few days. It was this that made me realize how much potential Pinterest had as a marketing tool.
So I started becoming more active on Pinterest. I posted a fairly large number of high-quality images and added a Pinterest icon to my blog so that people would follow me. My number of followers hasn't increased greatly, but I still get a huge amount of traffic from Pinterest- over 700 visitors per month after just a few months.
How do you turn Pinterest into a source of traffic for your blog?
1) Use high-quality images in posts.
One of my most popular posts, The 50 Greatest Festivals in the World, had been getting some pins because the post contained 50 interesting images of colorful festivals. So I decided to finally write a post that I had been planning for a long time, and use it as Pinterest Bait.
I called my post The 100 Most Beautiful Places in the World. I painstakingly scoured the internet to find over 100 high-quality, colorful, unique, and beautiful images to put in my post- one or two pictures for each of the worlds most beautiful locations.
2) Give the images descriptive titles
I added all of these pictures to my post, making sure to give them a high quality title as well. For example, if you save an image to your computer directly from a website, it may be called something like Italy_image-310.jpg. Unfortunately, that is an incredibly poor title to have if you want your images to also be easily searchable in Google (which will therefore decrease the likelihood of people happening upon them and then pinning them to Pinterest.)
I gave each of my images a unique title. For example, Venice, Italy most beautiful places in the world. I included main keywords that would be used to search for the image.
3) Include a title cover image for blog posts
If you've written a blog post as Pinterest bait, make sure you create a good cover image. This is often an attractive image with the title of your post in it.
I actually went back to all of my most popular posts and created cover images for them. For example, one of my most popular posts is The Best Resources for Cheap, Free, and Paid Travel. Unfortunately, the post was not optimized for Pinterest because it contained no nice or useful images to pin. What I did was take a photo from my computer, add a text title, and add it to the post. Now pinners who want to share the post with others have an attractive image to pin.
To see what I mean, see The Best Resources for Cheap, Free, and Paid Travel, Parts 1 & 2, and The 100 Most Beautiful Places in the World.
4) Check what images are being pinned from your site
In order to see what images people are pinning from your blog, go to URL http://pinterest.com/source/yourblogname.com/
You will be able to see all the recently pinned images from your blog, as well as comments and re-pins. Here, for example, is escapenormals page: http://pinterest.com/source/escapenormal.com/
Things to Keep in Mind
Pinterest users like lifestyle topics.
People who use Pinterest often are interested in lifestyle topics. They love looking at fashion, travel, crafts, weddings, home decor, etc. So if you blog about one of these topics, you are a good candidate for Pinterest baiting. If not, you can still find ways to become popular on Pinterest, by somehow relating one of these topics to your own or by using unique and extremely engaging images about your own topic.
Pinterest users like how-to posts.
If you've been blogging for awhile, you are well aware that people love to read how-to posts and the best of lists. It is the same for Pinterest users. In addition to just collecting gorgeous images, Pinterest users genuinely like to learn about the topics they are interested in. If you create a how to or a list post, you should definitely create a title cover image to share on Pinterest.
Pinterest sends high-quality traffic.
At least from what I've seen based on the traffic that Pinterest sends to my blog, Pinterest users spend a fairly long time reading my blog and going through various pages once the come to it. And it makes sense to me- when I see something I like on Pinterest, I follow the image back to its original source (all you need to do to get to the original source of a pinned image is click on it) and often stay and browse the site for quite a while so that I can learn something new or interesting. And often, I end up pinning images from that site as well.
So- pins send you high-quality traffic, which in turn gets you more pins.
What kind of traffic does Pinterest send my blog?
Pinterest is currently my 3rd largest source of traffic, after Google and direct traffic. Escape Normal gets over 700 visits per month from Pinterest, and the visitors stay for an average of 2 minutes and 36 seconds on the site, with a bounce rate (meaning people who leave after viewing only one page) of 46%. And that is extremely low for my site, by far the lowest of any of my top 10 sources of traffic.
I am going to continue to build my traffic from Pinterest in the upcoming months. If you have any techniques or questions, Id love to hear them.
And be sure to follow me on Pinterest!