I'm going to start writing a monthly report so that you can see what effort I have put into this blog and how it has paid off, and how the payoff increases each month. Hopefully I can become successful quickly with this blog and inspire you to start earning a passive income of your own!
I've done a few posts a week this month and built a few back links for many posts. To do this I've mainly just commented on similar blogs and similar posts and then linked to my own posts. I've done an interview with another blogger and I plan on doing many more. I've started using amazon associates and google ad words. Just yesterday I added amazon products to my most-viewed pages, and I checked my account with amazon today-still no sales, but there was already a spike (a small number, but a high percentage) of people who clicked on the products I added. Nobody is clicking on my Google AdSense ads. I still have not made any money with either Amazon or Google, but I am learning the ropes and hopefully I can start making an income with them quickly.
I just began using twitter maybe 2 weeks ago, and now I have 50 followers, but to be honest I still don't really know how to use twitter expect to inform people that I have added a new blog post. As I told my roommate, I have reached the milestone of 50 twollowers that read my tweetles.
Here is my first month visitor report according to Google Analytics: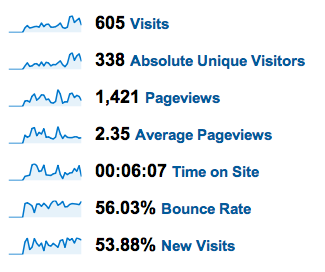 One of my favorite resources is ProBlogger. This provides great documentation and really solid ideas and steps to help your blog take off and start earning money. You can buy ProBlogger: Blogging Your Way to a Six-Figure Income on amazon.