Month 2- April 2011: $16.93
I've had this blog going for about 2 months now, and I'm excited to say that I've made my first few dollars! Its nothing big but it is certainly trending in the right direction, so I'll keep up with whats been working to try to increase these numbers drastically in May.
Google Analytics Visitor Report: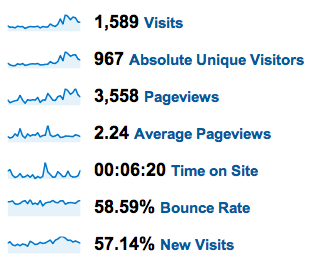 Google AdSense Earnings:
Total: $15.63
Number of clicks: 13
Average cost per click (CPC): $1.2
Amazon Affiliates Earnings:
Total: $1.3
Number of products ordered: 2
Total Earnings:
$16.93
Twitter Followers: 73
Feedburner Subscribers: 9
To increase my traffic this month, I have become more consistent with posting, and am falling into a 4 posts per week, Monday-Thursday schedule. In these last few weeks I have started to become active on Couchsurfing forums, which has brought a lot of new traffic. I won a blog carnival and was featured in my schools newspaper in an article about my alternative post-graduation plans (traveling and blogging), but neither of these seemed to bring any extra traffic. I started a YouTube channel and would like to create a useful video this month, because I expect YouTube to be an excellent way to reach new people.
I've met and talked to some new people (in person) who are interested in my blog and promoted it within their circles of friends. While this provided a (proportionally)  large amount of new traffic, it was less consistent and tapered off after a few days. But it proved the power of offline-marketing and now I know that it will really help my blog to talk to people about it when I travel. I am considering making myself business cards, since I am creative and don't like to pay for anything I can make myself. But I'm not sure whether I would really use them; I think I would feel awkward handing somebody a business card, like I was trying to swindle them into buying something.
I am getting the hang of twitter; now I need to find more useful things to share with my twollowers. I've made a few helpful tweetles, but I'm still trying to figure out exactly what twitter users are looking to gain from using the site. Once I figure that out, Ill try to give it to them.
I would like to make a Facebook page soon, but I don't know much about how that would be beneficial when people could just go to my blog. Would I have to provide entirely different and unique content? That sounds like a lot of extra work. But maybe it will be a good way to send messages to people who otherwise wouldn't subscribe to my blog or follow me on  twitter.
So Im happy with the results this month and I look forward to using what Ive learned to really improve my stats by the end of May. Im just about to graduate college so I will be able to spend a lot more time on writing and promoting this month. So be sure to check back to see what Ive accomplished!