Month 3- May 2011: $39.71
Three months in, and the amount of money coming in through Escape Normal is encouraging. Though its still nowhere near enough for me to live off of even on a small budget, there seems to be steady growth that says that I will get there eventually. Blogging is turning out to be a slow and steady type of race, rather than a sprint. If you've wanted to start a blog but have been putting it off, see how much you can accomplish in just 3 months part-time! Go start a blog!
Google Analytics Reports: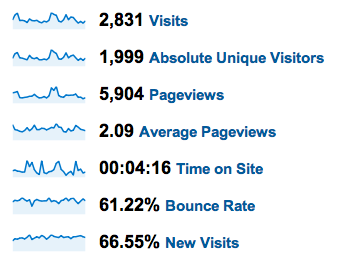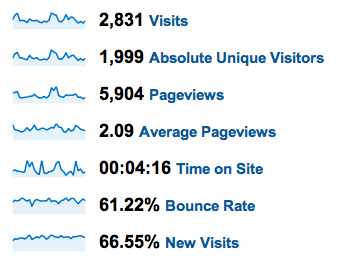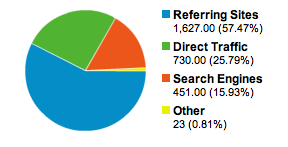 Google AdSense Earnings:
Total: $39.45
Number of Clicks: 34
Average Cost Per Click: $1.16
Amazon Affiliate Earnings:
Total: $0.26
Items Ordered: 1
Clicks: 97
Conversion: 1.03%
Total Earnings:
$39.71
Twitter Followers: 90
Feedburner Subscribers: 23
Average Reach: 3
I'm happy to say that this month Escape Normal had over 1,000 more unique visitors than last month. That is more than double the traffic! But 1,999 visitors? Really? ONE more person couldn't have visited?
Google AdSense clicks were higher at the beginning of the month and tapered out a bit toward the end. I removed Google ads from the beginning of my blog posts a few days ago to see if it would affect clicks, so well see if there is any change next month. Amazon Affiliates seems to be pretty pointless this early on.
This month I reached out to some new readers through the forums of Couchsurfing, Lonely Planet, and a few other sites. I made profiles on these sites and became active in answering travel related questions. When it related to the subject, I added a link to a post on my blog.
For much of the month the bounce rate was increasing and the average time on site was decreasing. I made a few simple changes to the layout of my site that fixed those problems in the last week or so of the month. Ill be writing a post describing exactly what changes I made to accomplish that.
I didn't try any other new, crazy techniques, but there are a few interesting things I learned this month. The most important thing? Guest posting is a great idea. I had heard that many times on other blogs, but it really became evident how much traffic a big blog could bring when I left a comment on one ProBlogger post and got over 50 new visitors from ProBlogger that day. Imagine how much traffic an entire guest post would bring!
So during June I'd like to try my hand at guest posting. The thing is, most bloggers say that you should develop a relationship with other bloggers before you submit a guest post. But who has time for that? I've been frequenting a few blogs daily and leaving comments, but the authors of the blogs aren't responding and its taking a lot of time that I could be spending promoting my blog in other ways. So I will try to work out a method, but I think I'm just going to go for it and start submitting posts to other sites to try and get a lot of traffic and some loyal readers next month.
Any thoughts on the subject? Or any other new bloggers out there tracking their stats? I have nothing to bench mark against and I'm curious to see how other people are doing.