Month 4- June 2011: $13.07
I've been blogging for 4 months. This month was going to be an experiment in guest posting, but the experiment will go on because I haven't learned how guest posting affects my traffic, although I've tried. This month ended up being more of an experiment to see what happens if I don't do anything to increase traffic- just post and let what happens happen.
Google Analytics Reports: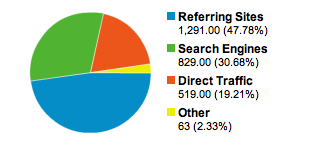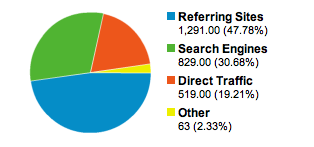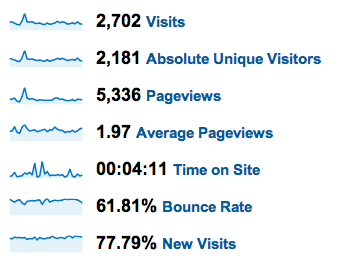 Google AdSense Earnings:
Total: $8.63
Number of Clicks: 12
Average Cost per Click: $0.72
Amazon Affiliate Earnings:
Total: $4.44
Items Ordered: 5
Clicks: 130
Conversion: 6.92%
Total Earnings: $13.07
Twitter Followers: 96
Feedburner Subscribers: 33
Average Reach: 14
Lets cover guest posting first. I submitted 5 guest posts to different blogs. (A guest post is a post that you write for free and submit to a blog other than your own in order to gain traffic from that site and improve in search engine rankings.) 3 were accepted and I had no response from 2 blogs. One of my posts was published, one seems to have been forgotten as the publish date has passed and it has not been published, and one is due to be published this weekend. One thing I learned quickly is that it is important to check how many comments a blog has before you consider submitting a guest post to it. It does not pay to submit to a blog that doesn't get any reader interaction- it doesn't help your stats.
I am keeping a spreadsheet for all of my guests posts with information like the subscribers I gain and the traffic that comes to my site from the post, so when I have a sufficient amount of data I will share that with you. One of the blogs that accepted a post I wrote is one of the biggest blogs about blogging, so I'm interested to see how that affects my traffic. And Ill also provide you with links to all of my posts so you can see the type of things that get accepted.
The second thing I learned is that, despite what many people say, it isn't important to build a relationship with a blogger before you submit a post to them. Just be professional in your email, include an HTML version of your post that conforms to their guidelines, and if its good it should be accepted.
This month I made my blogging schedule even more solid by breaking down the week into topics. If you've been following, you may have noticed, for example, that Wednesdays have become The Best Sport You've Never Heard Of Days. It makes it much easier for me to think of things to write about when I have all of the topics pre-selected. It is still very difficult for me to try to think of ideas for guest posts- hopefully I will find a good method in time.
I still don't see the point of twitter. I may consider deleting my account, but I imagine it could become a good way to market once I have a lot of followers, so Ill keep it for now.
I'm a little disappointed that the average cost per click of google ads has dropped so much- down $0.44 from last month.
Two interesting things to note about the traffic, though pretty much the same in quantity as last month, are that a much greater percentage are from organic google traffic- about double (good!) and that the traffic per day is much steadier.