Month 6- August 2011: $6.25
Half a year is up! This month I barely touched my blog, so let's see how that translated into traffic and income!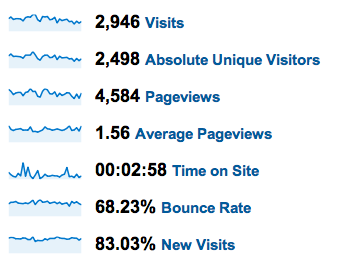 Google AdSense Earnings:
Total: $5.65
Number of Clicks: 29
Average Cost per Click: $0.19
Amazon Affiliate Earnings:
Total: $0.60
Items Ordered: 2
Items Shipped: 1*
Clicks: 92
Conversion: 2.17%
* I'm not sure why only one of two items was shipped, but I only get paid for shipped items.
Total Earnings: $6.25
Twitter Followers: 104
Feedburner Subscribers: 45
Average Reach: 1
What I find interesting is that even though the number of Adsense clicks more than doubled from last month, the cost per click fell so I still made less money. The next step- I have to look into why this is the case. Id prefer to make more money when advertising is successful, not less.
I tried something new this month- today actually- I uploaded my first self-promoting YouTube video. While the purpose of the video is to teach a skill, the links at the bottom will hopefully help draw traffic to my blog and income to my amazon affiliates account. The video, How to Dye Feather Hair Extensions: Tutorial, has gotten 21 views since I uploaded it a few hours ago. I have no benchmark so I wasn't sure what to expect, but that sounds pretty good to me. I'm hoping that this experiment in YouTube marketing, given time, brings my video to the top search results for dying feather hair extensions. Of course, I will let you know how this works out for me and try to give you some pointers for your own promotional videos!
My thoughts on Twitter thus far? Terrible. I cant stand it, I never use it, and every time I look at what people are posting I feel like I'm reading one of those tween books that is written in entirely computer slang. Lol #fyi @jk 2pm boi!
There are lots of things to look forward to next month: I will be doing my first product review of a travel/sports related product, so I am looking forward to see how that affects my amazon affiliate earnings. I've been able to draw a pretty good amount of traffic to my Etsy store quickly, so I'll let you know how I did that. I want to start work on a new project- so Ill be formulating some ideas for my Eco-Art-House to be, and setting up a method of receiving donations and funding. And I will be writing all about the beginning my stay at Kalani in Hawaii- in fact, I have to wake up in less than 3 hours to go to the airport (18 hours of travel!).
Finally, my goal by the end of the year is to break 5,000 visitors a month. Let's do it!
I you all enjoyed your summers! Good luck with school, work, and travel!