Month 8- October 2011: $12.33
This month I've been slowly getting back into blogging and I've started writing an eBook about traveling for free which I would ideally like to release in December. After so many months of barely writing, Id forgotten how fun and rewarding blogging is. And with every week that passes I learn a little bit more about how to have a successful blog. If you are interested in starting a blog but don't think you know enough yet to do it- at least get it up and running and start posting. There is only so much you can learn from reading about blogging and only so much I can help you understand, but the majority of what I know and what you can learn will come from real experience. And its fun!
A few of my friends here are bloggers too, and it is exciting for me to share ideas with them. You can share in my excitement- check out Camerons Master Manifesting, about how to realize your dreams and improve your life, read about Amandas amazing and emotional journeys at One Yellow Roman Candle, or give Katrin input about her first blog (in German) at Job Break.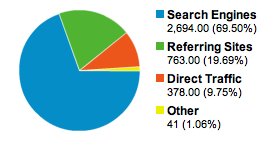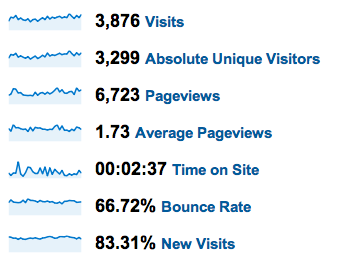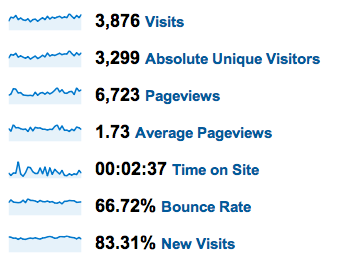 Google AdSense Earnings:
Total: $11.73
Number of Clicks: 15
Average Cost per Click: $0.78
Amazon Affiliate Earnings:
Total: $0.60
Items Ordered: 1
Clicks: 85
Conversion: %2.25
Total Earnings: $12.33
Twitter Followers: 104
I don't think I should keep my Twitter account, because I cant stand Twitter and never use it, but I'm afraid that one day it will click and I'll wish I had kept it. Thoughts?
Feedburner Subscribers: 52
Average Reach: 5
I reached a goal this month- I received my first payment from Google adsense! They don't send out money until it accumulates to $100 or over.
861 more unique visitors than last month! That is exciting. My main goal this month and for the rest of 2011 is to bring back the subscribers and the people who like to read my blog regularly by posting and interacting more. My random google-search visitors are ever increasing, but the most important visitors are the ones who come back regularly. Plus, when I do write new posts, those readers that are subscribed via feedburner seem to react well (they click on links to my blog within the new posts that are sent to them.)
I've noticed my stats improving in the last few days because of a few things- I'm doing a little bit of advertising around Kalani (I'm going to put up a few flyers soon and see what happens- if it works well I will probably try to do a lot more flyer ads.) Also, the changes I made to my home page and logo seem to be inviting people to explore my site more and just make my blog look more professional and interesting. Its the results of little changes like this that all mush together in my head to give me an overall picture of how to make my blog successful in the future.
As for my eBook, the December release date, if I can finish it by then, will be a really exciting holiday season marketing experiment for me. There is the biggest potential for sales of the year, and I want to start figuring out how to make this work for my blog as soon as possible so that I can improve my technique each year!