Nook vs Kindle How To Get Any Book For Free on Either
I love to read, but since I travel all the time I don't read as much as Id like to. Bringing more than two books along with me gets cumbersome, and I worry about them getting torn up and weathered. So, maybe a little late in the game, I decided to buy an eReader. And now it will go with me everywhere, and I can instantly (or almost instantly) have any book that I want in the palm of my hands.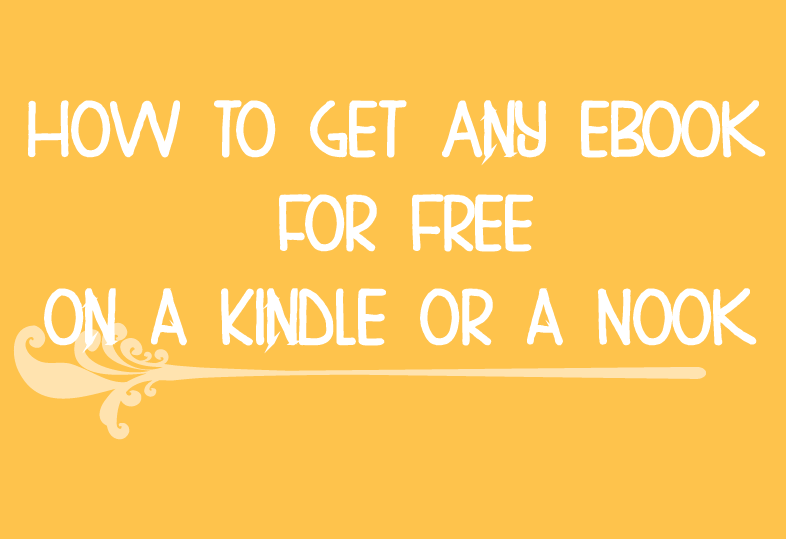 For this review and tutorial, we will be focusing only on eReaders, not on tablets. So no Kindle Fire or Nook Color.
Why I Chose A Nook GlowLight
It took me a while to decide whether I wanted a Barnes and Noble Nook or an Amazon Kindle. Eventually I chose a Nook, for two reasons. One, it has a glow light. (Though since this is a new innovation, I wouldn't be surprised if Kindle came out with a glow light version very soon.) And two, I decided it didn't matter which one I got, and the glow light was the only major advantage of the Nook. Why did I decide it didn't matter? Well, most people focus on the books they are able to get for free and the cost of the books they have to pay for when choosing an eReader, but if you can get absolutely any book for free, than that becomes an irrelevant thing to consider.
What Are The Major Differences Between Nook and Kindle?
Not too much, honestly. Each is basically a good, useful, and fun device to have. Here are a few things that are important to note, and a few differences that did stand out to me.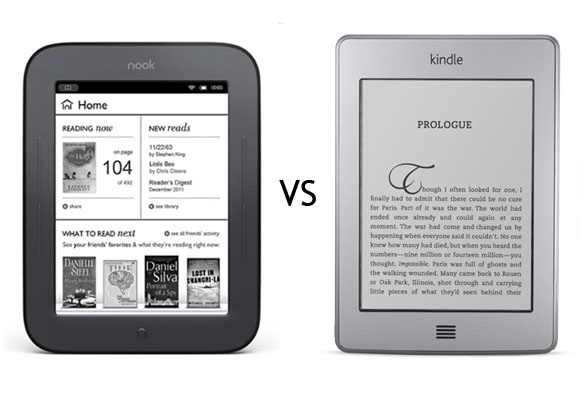 Ads and Screensavers
Amazon Kindle comes with special offers. This means that unless you pay $40 extra, there will be ads on your Kindle. From what I understand, they do not appear while you are actually reading a book, but they are automatically your screensaver whenever your Kindle is off, and you cant get rid of them without a fee or a confusing hack. For many people I imagine this wont matter, but for me personally I would rather set my own screensaver (or wallpaper), and that is very easy to do with a Nook. I have set mine to a photograph that I took myself.
Nook GlowLight
This was it for me. The glow light is easy to turn on and off and lights up the screen so you can read in bed or in the dark. It isn't like a computer, where it suddenly accosts your eyes with bright white light. It basically has the same effect as attaching a small reading light to your book, except better, because the entire screen is lit evenly. And you can adjust the brightness.
Kindle 3G
If you are one of those crazy technology-obsessed, cant have any device that doesn't automatically connect to the internet type of people, then Kindle 3G is your eReader. Nook, as far as I can tell, used to offer 3G but doesn't make those models anymore. However, I think 3G internet is completely unnecessary. Both eReaders allow you to connect to the internet via WiFi, so as long as you are in your home or somewhere with wifi, you can download as many books as you think you will need for your trip. If you download 10 books and suddenly decide while you are sitting on the beach that you don't want to read any of them and you need internet to immediately download a new one, come on, suck it up. But my own distaste aside, if you do need 3G that badly, go with the Kindle 3G.
Renting books on the devices
Each device comes with its own way to rent books, but neither is really all that useful when it comes down to it. With the Nook, if you bring it to a Barnes and Nobles store, you are able to use their wi-fi (which you can always do anyway, even on a laptop) and you can read any book in their Nook collection for one hour per day. If you happen to be an Amazon Prime customer, you can borrow any one Kindle book per month for free. You get one borrow per calendar month with no rollovers, and you can keep the book as long as you want. For a while I thought this would be great for me, because my mom has an Amazon Prime account and I am linked to her account through my own, so I sort of have a secondary Prime membership. After doing a lot of research to figure out if I could use the Kindle Owners Lending Library, I came up empty-handed and without an answer. I concluded that it would be very unlikely that this service would be extended to me on a secondary linked account.
Cost
They are in the same price range, about $100 for a standard e-ink touch screen. For extra features, like Nook GlowLight and Kindle 3G, or Kindle without ads, you end up paying a bit extra, but if it is a feature you want than it is worth the investment for either device.
Free Sample Chapters
On either device, you can download a free sample before you commit to buy. I like this feature a lot. One of the things I would have missed about picking books in-store is turning to a random page and reading it to see if I like the style of writing. With free samples, you can still look a little bit into the book before actually buying it.
Of course there are many more differences between the Nook and Kindle, but none that really mean much to me. The function of an eReader is to allow people to read books in any lighting, on the go, and both the Nook and the Kindle can do that well.
Why It Doesnt Matter Which You Choose
Beyond all the effort Barnes and Noble and Amazon put into trying to get you to pay for their books, you dont have to pay for books, ever. There are plenty of ways to get them for free. So choose based on the little perks that you like, like the glow light or wifi or how cool you think the device looks.
How to Get Books for Free
And now the fun part. Well start with most well-known methods and build up to expert mode.
Lending with Amazon and Barnes and Noble
As I mentioned before, each device has its own little lending program. So you can read books for an hour in-store with a Nook, or borrow one book per month with a Kindle. Alright, not too useful.
Get Free eBooks through the Barnes and Noble or Amazon Website
Both Barnes and Noble and Amazon offer a bunch of free books: for this I actually think Amazon has a bit of a better selection. Books include classics that have no copyright, such as Pride and Prejudice, Frankenstein, and Alice and Wonderland.
Often new authors release their eBooks for free in order to get you hooked. They might give away the first book in a series and have you pay for the next ones. Or, they might offer a bunch of different books for free in order to build a name for themselves, and eventually write books for a profit. But Amazon seems to have a bigger selection of these kinds of books, because authors who self-plublish books (which is free to the author) tend to put their books in Amazon Kindle format more often than Barnes and Noble Nook format.
Search Barnes and Noble and Amazons free eBooks. You can also find free Classics on each site.
Borrowing Through Your Public Library via Your Home Computer
Yes, this is a thing! I was very excited when I found this out, and I dont know why it isnt more well-known. But you can borrow eBooks from your public library in much the same way you would borrow physical books from them. All you need is a library card and an internet. Here is how it works with my library:
I go to my librarys website, and browse through their list of books or type in a title or keyword. For extremely popular books there will be a waiting list, just like with any physical library book, and with a click of a button I can join the waiting list and receive an email when it is my turn to take the book out. If there is no waiting list, I can get the book instantly.
After that, I transfer the book to my Nook via Adobe Digital Editions, which my library provided a tutorial about. Nook and Kindle have different eBook formats. If your librarys site doesnt have a tutorial, you should be able to go and have a librarian help you set up your device in person.
I am able to keep my borrowed books for a few weeks, and after the expiration date, I cant read them on my device any more. I can borrow 5 books at a time, which is many more than I need anyway.
The best part is- I can borrow books online from my living room. I dont even have to go in to the library to do it.
Download Free Classics Instantly Online
There are quite a few websites that will let you download classic, non-copyrighted books for free. Just yesterday I downloaded Jane Eyre, Myths and Legends of Ancient Greece and Rome, Emma, Sense and Sensibility, Frankenstein, Wuthering Heights, and a few more eBooks on to my computer and transferred them my Nook. There are thousands of free classics out there, so youre sure to find at least a few that you like, even if youre not a classics kind of person.
Here are a few sites where you can download classics (and sometimes other free books):
There are many more sites, just do a google search for free eBooks. But these are certainly a good start and should cover all the classics and more.
eBook Torrents
I have now described a way to get any book for free. You can instantly have classics, rent through your eReader device, or download any book in your public librarys collection. If that isnt quite enough for you if the book you want is so popular that there is a waiting list of 900 people (which is the case with the most popular book at my library), but you just dont want to pay for it, it will more than likely be a popular torrented book online. For anyone who has never used torrents, they are just a fancy word for files people share on the internet- anything from movies and music to books. So if you MUST read 50 Shades of Grey IMMEDIATELY and for free, it is most likely so popular that a ton of other people also want to read it immediately for free and somebody has been kind enough to upload a file for you.
Torrents are right on the boarder of legality, so download at your own risk and with your own moral judgements. Fitting right with the questionably legal sites, there are often adult ads on these sites that Id just rather not see. Generally these sites are not harmful to your computer, but it never hurts to Google site reviews before you choose one.
Here is an example of a site that offers eBook torrents:
And that is it, my fellow readers. You now have in your hands the power to download any book you want to your Barnes and Noble Nook or Amazon Kindle eReader.
Purchase a Nook or a [easyazon_link identifier="B007HCCNJU" locale="US" tag="escapenormal-20″]Kindle[/easyazon_link], and an [easyazon_link keywords="kindle covers" locale="US" tag="escapenormal-20″]eReader case[/easyazon_link].