Orange Fever: Queens Day Parties in the Netherlands
Koninginnedag, or Queen's Day, is a national holiday in the Netherlands, celebrated on April 30th, or April 29th if the 30th falls on a Sunday.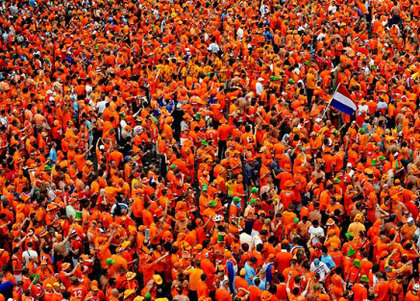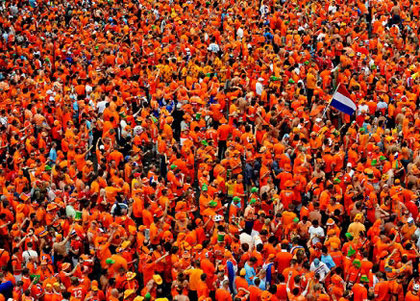 The holiday was first celebrated in 1885 as Prinsessedag (Princess's Day) to honor Princess Wilhelmina on her birthday, but became Queens Day when Princess Wilhelmina became queen. The holiday jumped dates for many years it was changed to fall on the birthday of Wilhelmina's daughter, Juliana, and then on the birthday of her daughters daughter (Beatrix) on April 30th.
The celebrations traditionally involved a parade (for Wilhelmina), a floral tribute (for Juliana), and a tour of the towns of the Netherlands by Beatrix, who uses the opportunity to honor her country's citizens and thank them for their service.
Today there are some vibrant and exciting traditions that accompany Queens Day, which provide a good excuse for many tourists to join in the celebrations.
Orenjegekte (also known as Orange Craze, Oranjekoorts, or Orange Fever), sweeps the nation each Queens Day. The Dutch people dress in all orange attire, often painting their faces, dying their hair, and wearing crazy orange accessories. Orange, though not represented in the Dutch flag, is the color of the Dutch Royal Family, the House of Orange, so named because of the Dutch acquisition of the principality of Orange in France in 1530. Orange was later annexed by France in 1660, but the title House of Orange stuck in the Netherlands.
The biggest celebrations take place in Amsterdam, with festivities starting a day early on Queens Night and taking over the streets, canals, parks, and buildings. Many Dutch take to the canals on vividly decorated (and often orange) boats, creating a gridlock bumper-boat party on the waterway.
Queens Day in Amsterdam boasts live music, DJ's, and a city-wide flea market, because it is also a free market day (called Vrijmarkt). The city transforms into a giant yard sale; everyone and anyone sells stuff stuff they've made, stuff they've bought, and stuff they want to get rid of. Many people sell out of transport bikes, a practical way to transport and display the goods among the crowds. On Queens Day no license is necessary to sell and no taxes are paid. There is even a dedicated section for kids to set up shop and sell their old toys for a few cents each.
If you want to join the festivities you'll have to book a hotel early and walk to the event areas, because the streets will be impassable with crowds of excited, orange clad people. Its recommended that you bring some snacks and water in a backpack because lines for food can get very long.