Safari Journals: Day 10: Bucket List
Our last drive was fairly uneventful- uneventful of course being relative. The two new women were snapping pictures of far-away impalas and elephants as me and Poppy, the veterans, sat in the back and waited for some excitement. Mo agreed its a slow day, and the two women were amazed that anyone could consider seeing all these exotic animals as a slow day, but I guess that will happen no matter where you go if you stay long enough.
We did get to see some birds, which I had put in an order for with enough days advance notice that Mo had time to find some for me. The bird party consisted of a large number of pelicans resting on the water.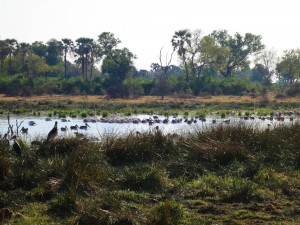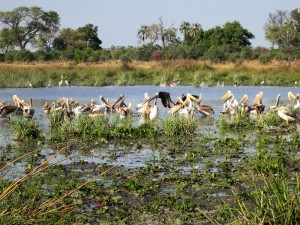 We got back to camp with time to pack, shower, have lunch, and say goodbyes.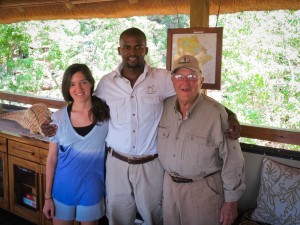 On the 45 minute drive to the airport we learned to appreciate the term eat my dust even more than we had through the entire trip, as we followed another rover closely. It kicked up a huge amount of dirt, an acquired taste of Botswana, according to people who have spent time there.
We actually ended up stopping for about 5 minutes halfway to the air strip because there was a leopard on the path. Of course it would be there just as we were leaving- but it was a cool last thing to see.
Our last charter flight was on a larger 14-person plane, which I really enjoyed, and it was air-conditioned. We landed at Mauna airport and flew to Johannesburg, where we are now. The airport is huge and modern and beautiful but Id still rather head to JFK now rather than wait here for 4 hours.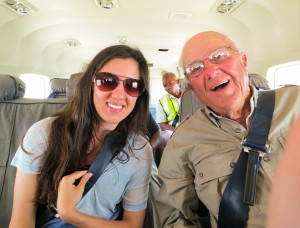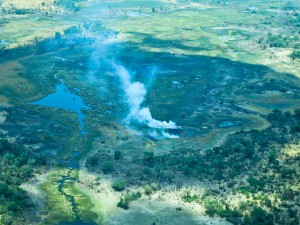 Me and Poppy are very ready to go home. It was a fun trip, but we both want to get back to our normal lives, eat our own food, talk to our friends and family, and maybe watch some TV. I really want to get on the internet, but I'm not sure Poppy even knows what the google is.
There has been a lot of talk of travel on this trip; naturally most of the people paying so much to go on a luxury trip to Africa have been to some very exotic places. I've gotten some good advice on applying to be a volunteer at the Rio Olympics and met a couple whose daughter is about my age and also has Antarctica at the very top of her travel list. I thought I was the only one! I was excited to find out how she planned to go there on a college student budget, but her plan was to convince her parents to take an expensive charter cruise with her. Unfortunately I can't afford to spend 10K on a cruise right now, so I'll have to get creative and find another way.
We've met many people who have been to Machu Picchu, a place that both me and Poppy really want to go to. Every time Poppy brings it up to people we meet, he invariably calls it Moochi Poochi.
Poppy talks a lot about the fishing trips hes been on and the national parks he wants to visit. I might try to make my way over to Zion while I'm in Colorado.
Also at the top of my list, second right now only to Antarctica, is Lake Tahoe. Two couples we met have raved about it and made me want to go even more- they seem to think it is close to Colorado so Ill need to check a map when I get back. If it is close, then hopefully I can stop by in the next 6 months.
Two other places that keep coming up in conversation are the Amazon rainforest, somewhere I've wanted to go since I was in elementary school, and the Galapagos, which I'm even more interested in since I've been reading Darwins The Origin of Species on this trip. Poppy is also very interested in these places and would love to see the wildlife. It would probably be a similar feel to this trip. Everyone we talked to who has been to these places recommends boating through them- I guess some sort of charter ship- to get the most of your time there. One day I certainly will.
But for now we say goodbye to Africa and its exotic animals and return home to our gray sparrows and black squirrels. Maybe one day I will be back in Africa to see the red sands of the Kalahari or the ornate architecture and rich colors of Morocco.
But it will have to wait until after the ski season is over. Next stop, Steamboat Springs, Colorado.
This is part of a series called Safari Journals. You can read the rest of the journals here:
Day 1  Day 2  Day 3  Day 4   Day 5  Day 6  Day 7  Day 8  Day 9  Day 10