Safari Journals: Day 2: Private Planes and Wild Dogs
Today we got up early to catch a bus which would drop us off at the airport for a charter flight to the Duma Tau camp in Botswana. Everything had been arranged by a company called Wilderness Safaris (through a travel agent called Classic Africa)- all we had to do was show up and they would fly us, pick us up, take us on safari, and feed us.
The airport lobby was a small room with two desks, and after one man gave us our tickets, we walked with him to the one-man security screening and went right through to our plane. I had been afraid that our plane would look like that tiny one from 6 Days 7 Nights. It did.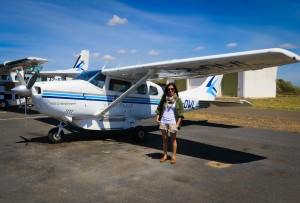 It was us and our pilot, and 3 empty seats. We buckled in and I had to lock the door manually before take off, which made me a little nervous. Almost as nervous as it made me to roll down to the runway with the pilot side window open. I hoped he would remember to shut it before take off.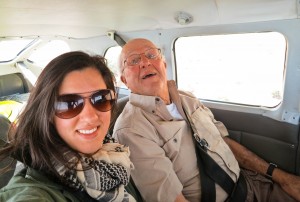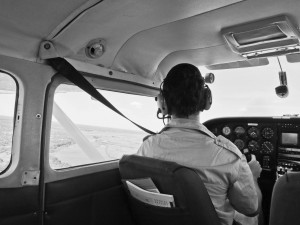 Take off was easy (and the window was shut) and fun to watch from the 360° windows. Our pilot flew us around the river for a while so that we could take some birds-eye pictures of the animals below before moving on to Duma Tau. Taking a charter flight was never on my bucket list, but I officially retroactively put it on there and check it off. That was the most enjoyable plane ride I've ever had. And plenty more to come on this trip!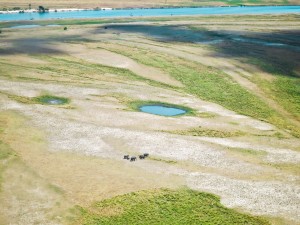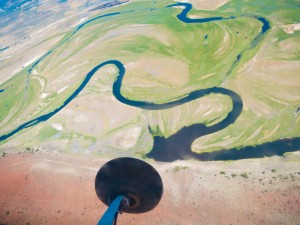 At the landing strip we were greeted by our guide, Ona, who took us by land rover to the camp. The camp is extremely beautiful and well crafted with high quality wood and fabric and canvas walls. The rooms have balconies where we can sit and look at the water and cross our fingers for some hippos or elephants to come by.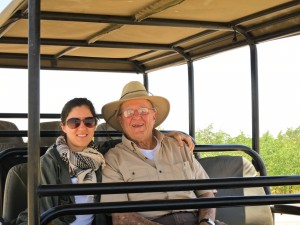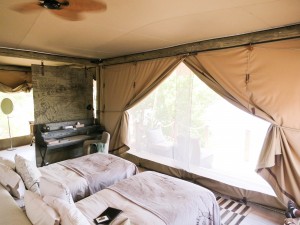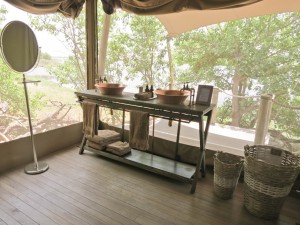 We ate, fell asleep, and were ready for our first safari in the evening. At 4:00 we set out with Ona and our group in the land rover. We got lucky- there were only 2 other people in the vehicle but space for 9. I was able to slide from side to side to get a closer look at all the animals.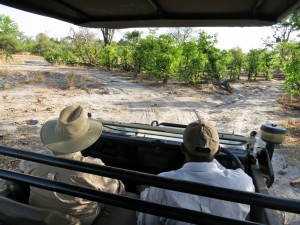 At first the animal sightings were scarce, although we saw some colorful birds, including a huge and colorful eagle I spotted in a tree and some very pretty pink and blue bee-eaters. We saw some some large animals- a giraffe and buffalo- from far away.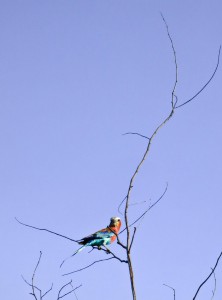 Ona is an excellent tracker. Watching him track animals and listening to him narrate as he goes is like watching a magic show, but it still seems like magic even after you've learned the trick. Eventually he found some signs that there might be wild dogs around, so he tracked them through the wilderness and we ended up in the bushes behind a lake.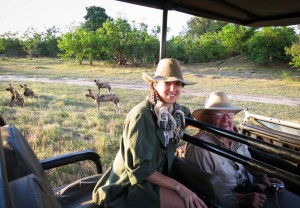 The dogs were there, many of them, and with many pups. They were just starting to come out of their mid-afternoon naps. The dogs are endangered; there are only 1,200 left in the wild, and we were watching 25 of them play just a few feet away.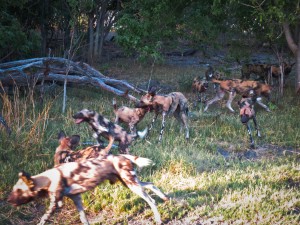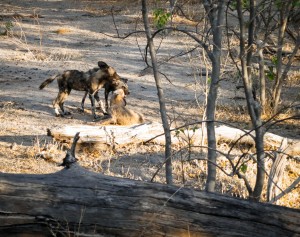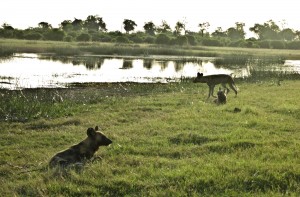 The guides all radio each other when they spot something interesting, so soon we were joined by another vehicle and we followed the dogs around for maybe an hour and a half.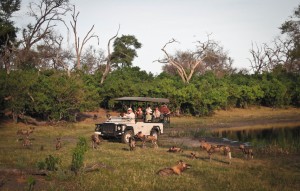 We watched their pack during pack bonding time and were eventually amused when they started teasing a huge buffalo for a few minutes. The pack surrounded a buffalo and it seemed like they were deciding whether or not to kill it, but after a while they gave up and went back to playing with each other.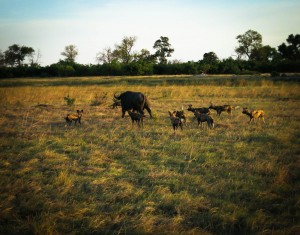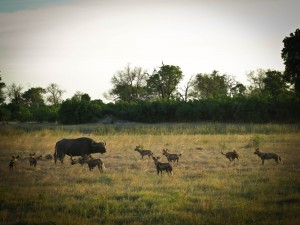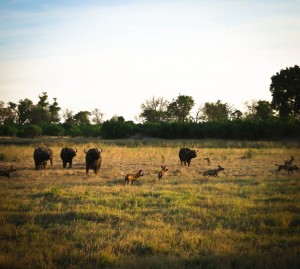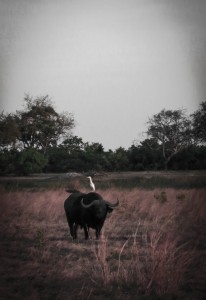 After sunset, stars filled up the cloudless sky and we got to look at one of the best night skies I have ever seen. Ona pointed out a satellite crossing the sky- it was something Id seen before but it looked even cooler with so many thousands of stars as a backdrop.
We got back to camp late and had dinner and went to bed at 10, too late for my taste since we would be woken up at 5 am the next day for safari number 2.
This is part of a series called Safari Journals. You can read the rest of the journals here:
Day 1  Day 2  Day 3  Day 4   Day 5  Day 6  Day 7  Day 8  Day 9  Day 10