Safari Journals: Day 5: New Lions New Landscapes
Today the plan for our last game drive was to go along the river and find some of the more common animals that we had been ignoring to play with the big cats.
That plan lasted a total of ten minutes before Ona spotted the tracks of a full grown male lion who had walked all night along the dirt road to get back to his family from the rival territory that he had visited the day before.
We found him under a picturesque tree by a pond, just lounging. His mane was huge and he would have been very scary if he had gotten angry.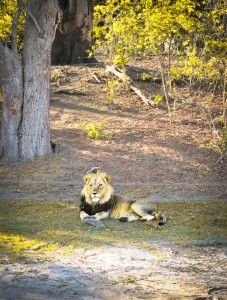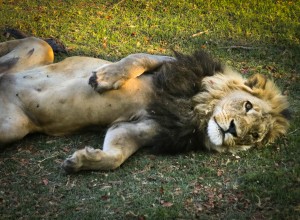 The members of his family started coming down to the pond from behind the bushes, and eventually he was joined by his mate, his teenage son, and a little simba cub. It was a lot nicer to watch them interact with each other than it had been to watch the pride made of entirely teenagers. We got some good shots of the lions playing, then moved on to where we had seen a leopard in a tree earlier that day.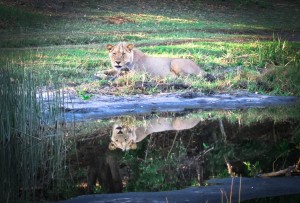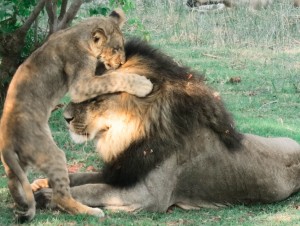 The leopard was still there, and very pretty. He was just laying on a branch in the shade with his feet and tail dangling down.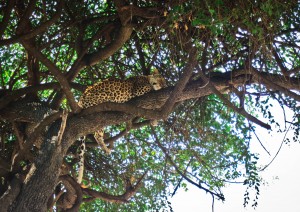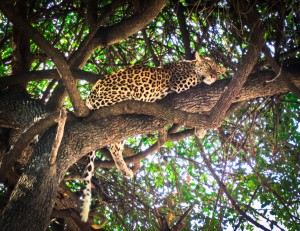 We watched for a while but couldnt stay long because me and Poppy had to catch a flight to our next camp. On the way back we saw some cool birds nests- the birds always build their nests on the west side of the trees.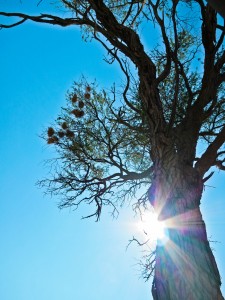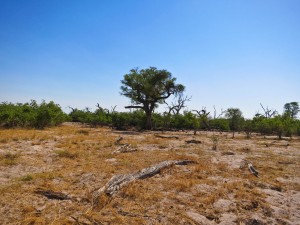 The place was just as small as the last one had been, but this time it was full to capacity and we made stops at two other camps before our own, totalling about 45 minutes in the air.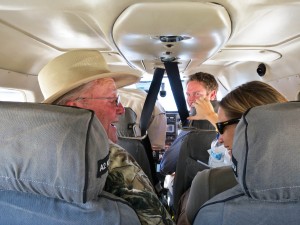 I had learned in Duma Tau that elephants use the same paths over and over, stomping them out until nothing grows on them, and that these paths stem from central locations, so I knew to look for these from the sky. There were many; they look like dry spots with veins sprouting out in many directions.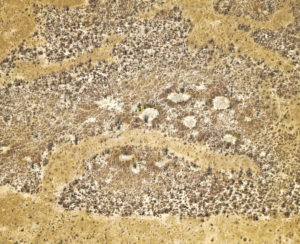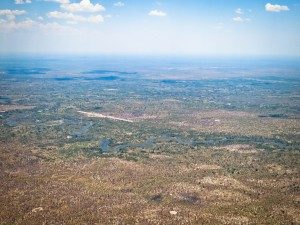 The flight was slightly less enjoyable this time because it was extremely hot and more cramped, so I just slept through most of it.
I did notice though how much the landscape changed on the way over. It turned from brown to green, from broken and dry trees to open land and mini oases with palm trees.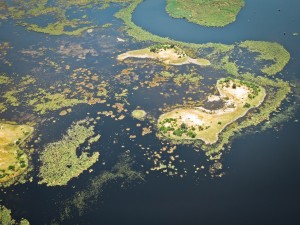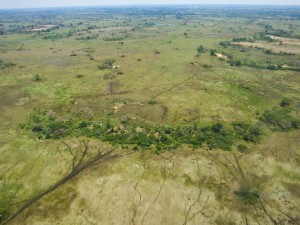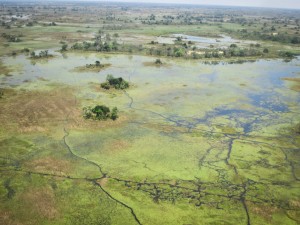 The 45 minute ride over sandy roads from the air strip to Kwetsani Camp confirmed that the land here is much greener and more open, with large trees in the distance, much more like how I pictured Africa to look from seeing it on TV. I am very excited to photograph the new area.
We were greeted at camp by a chorus of Dumela in song, which I assume means welcome. The staff is very nice and we were de-briefed before being shown to our tree house room. A group of baboons was playing on our deck but they scattered when we walked towards them. We were told to always lock our door and to never leave anything outside, otherwise the baboons will come in and steal things, and hang them from the trees.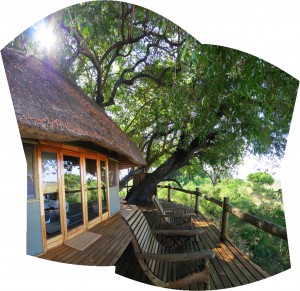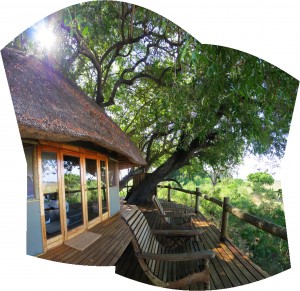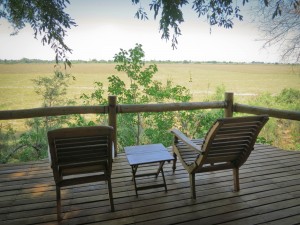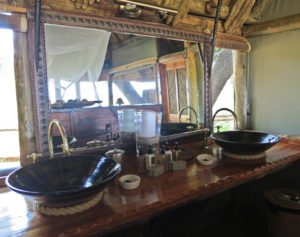 I like the staff here and the other people in our group. Dan and Mandy, the managers, are a very young couple who have been in Africa for years volunteering with animals, and now they are settled at this camp for a bit. Whitney and Fred are also a young couple- they are in the same tour group as me and Poppy. They moved to Sao Paulo, Brazil, recently for Freds work, and Whitney made the brave decision to quit her job in Finance in New York and move to Sao Paulo, where she worked as a Business English teacher. The demand for English teachers there is apparently very high. Now she does all of the marketing for the English company.
We started our evening game drive at 4:30 and set off across sand roads into the wild. The sand roads are much harder to drive on than the dirt we had come from and it was only 10 minutes into the drive when we got stuck in the sand and had to call another rover to pull us out. The guides attached the backs of the rovers by cable and the towing rover drove forward- and got stuck in the sand.
It was ridiculous to watch, both trucks spinning their wheels helplessly with a cable between them. We thought we might have to call a tow truck for the tow truck, but the other driver got himself and us out eventually.
When we got going again we came across another cool skull on the ground. It was a cool crocodile skull- but I still am waiting to see a full set of ribs.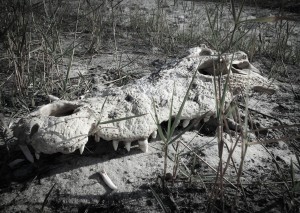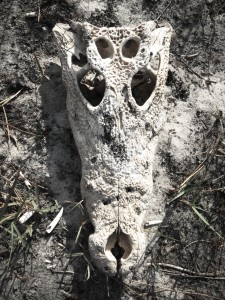 As the sun was setting, our guide, Simon, took us to see another group of lions. I am actually getting a bit sick of seeing wild lions now- Id rather see some common boring things that we still haven't looked at.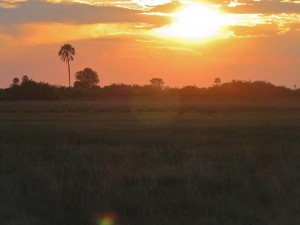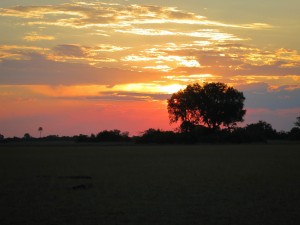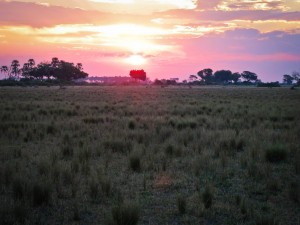 This group was two females and a cub. One female walked into the distance and made mating calls for quite a while. There were two males in the area whose scent she had picked up, but neither of them responded to her calls because they are still too young to feel confident going into the territory of another full grown male. It might be for the best, because Simon said that if the new males came over they would almost certainly kill the lion cub immediately.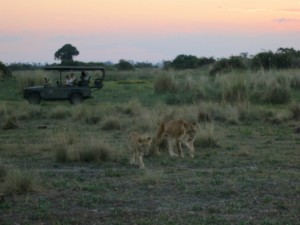 It is interesting to hear the background stories of all the cats we meet. They all have families and stories of survival and struggle and drama and politics and trickery. It makes them seem a lot more real than just seeing them on TV.
Now dinner and our first night at Kwetsani camp.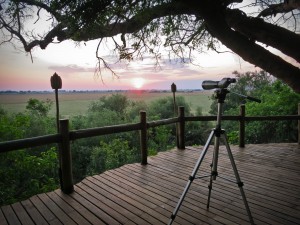 This is part of a series called Safari Journals. You can read the rest of the journals here:
Day 1  Day 2  Day 3  Day 4   Day 5  Day 6  Day 7  Day 8  Day 9  Day 10