This is a guest post by Andrea Hempel.
I caught the travel bug early on in life. Growing up, my parents used to load us up into the car for spontaneous road trips to the beach, out into West Texas, or sometimes just to a place close to our home in Austin, but far enough that it felt like a new, different experience. From then on, I was hooked.
I spent most of my college years studying abroad. My degree states that I went to TCU in Fort Worth Texas, but I feel like the majority of my education was spent at various institutions abroad. In fact, I'd say that over half of my degree was comprised of study abroad programs. Needless to say, when I finally graduated my days of study abroad were over. Desperate to find a way to continue traveling, I announced to friends and family that the year of 2005 would be Andrea's Year of Solo Travels. My parents agreed to my proposal because I was an adult now with a college degree under my belt and could make these kinds of decisions if I wanted to. However, they also stipulated that if this is what I wanted to do, I would have to fund it myself. Because I was an adult now.
So, I started saving up every penny I earned at my job as a museum gallery attendant. I knew this was not going to be enough to support me for a whole year of travels, but it would be enough to get me going. Meanwhile I began looking for ways I could make money while traveling.
I found many options, some turned out to be great while others not all they were cracked up to be. In the end, the best way I found to support myself, and the one which funded most of my travels that year, was becoming an Au Pair.
I had spent much of my youth babysitting and continued to babysit on the side whenever I needed extra cash. So, while looking for jobs abroad, I naturally gravitated towards childcare. I had heard that being an Au Pair, which is pretty much synonymous to a nanny, was a great way to immerse yourself into a different culture and also a great way to earn money. Families that hire Au Pairs are looking for help with childcare, but also would like to have a cultural exchange between their children and you. A lot of families want to hire English speaking Au Pairs to help their children learn English, so if you happen to speak it as your native language that is a plus.
I began my Au Pair experience by joining a couple of placement websites. At the time, the two most popular were GreatAuPairs.com and Nannyjob.co.uk. I set up my profile upon registering for each of them. The profile included information like childcare experience, age, country of origin, some references (I got mine from people I for whom I had babysat) and a photo or two.
It took a couple of weeks until I started hearing from potential families. I started getting many requests and by the end of the week I had the option of choosing which family sounded like the right fit for me. Some families wanted an Au Pair semi-permanently, others wanted one for a specific period of time, usually over summer vacation. I was able to arrange my Au Pair experiences so that I did one for 2 months then had 2 weeks off to travel around before my next Au Pair experience began, which lasted 3 months.It is also important to work out your schedule with the family you chose before you arrive. Many families will work out arrangements such as working with the children from 8-4, Monday through Friday then you may have the evenings off and weekends. Or, if you are lucky, some families really want you to experience the place where they live and will give you ample time off each day and on weekends to explore. Just make sure you know what kind of working schedule you are signing up for.
My first experience was in a tiny town (TINY!) outside of Liege, Belgium. It was beautiful there and I really enjoyed going on hikes around the village and in the country. The family lived in an tiny, old farmhouse and it was just the dad and his two kids. They had a garden of fresh herbs and vegetables in the backyard and collected eggs from a chicken coop. They made every meal from scratch. It was a quaint, idyllic situation.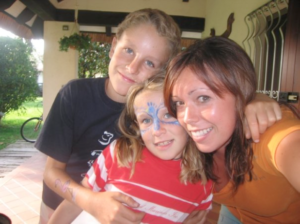 However, the hours that I had agreed to started to feel like a lot. Unfortunately, this was my very first Au Pair experience so I didn't do a good job of making sure the hours worked for me beforehand (hence my advice of arranging this ahead of time). I wound up waking up at the crack of dawn, doing general cleaning duties, preparing breakfast for the kids, taking the kids to school (while also learning how to drive a stick shift), working the garden, preparing lunch, picking the kids up from school, having lunch, taking them back to school, practicing my French so I could speak to the baker about what kind of bread we needed, free time activity of my choice, picking the kids back up at school (did I mention they went to two different schools?) having English lessons, going to do some kind of outdoor activity, getting dinner ready, preparing for bed, then finding my way to my bedroom so that I could crash. This experience was difficult for me, perhaps not for others who are full time nannies already. I enjoyed very much my free time activities, which mainly included going for hikes in the scenic countryside, but the work was exhausting. I left this experience wanting to feel a little more prepared for my next. I spent the next two weeks traveling, but mostly traveling for the sake of relaxation.
My next experience was so different from the first. The family for whom I worked was amazing from the get go. They had three children and were on summer vacation at their beach home in Italy (a coastal resort town near Venice). My duties were 4 hours a day with the kids then the rest of it was my own free time. Weekends I also had off. I got along so well with this family, that most of my free time was just spent with them anyway. The only cleaning duty I had was making the beds and I didn't have to cook meals, unless I chose to. I ended up introducing them to fajitas, tacos and salsa (didn't taste quite as authentic since I only had Italian ingredients to cook with, but they still got the point). I introduced the mom to margaritas, which she ended up liking a little too much! Did I mention this was their beach home? So, my four hours a day consisted of taking the kids to the beach or the pool or both. I have no complaints about getting paid to go hang out at a beach or pool. Plus the kids were the sweetest in the world. By the end of our time together we were crying as we said our goodbyes. I came back a few years later to pay them a visit and it was just like visiting family. I still keep in touch with them to this day and hope to visit them again soon.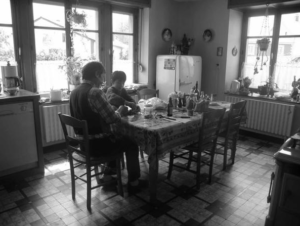 Me with two of the children I took care of in Italy
The benefits of Au Pairing are many. Getting to immerse yourself in a new culture, learning a new language, sharing your own language and culture, making new friends, becoming part of a family, not having to pay for room or board and getting paid well. Most all of the money you make there is saved. I used the money I made in each experience to support me for the rest of my travels. The pay is usually not tremendous (I was paid between $150 $200 Euros per week, but sometimes got more if I did anything above the agreed upon work schedule). It doesn't sound like a lot, but if you figure in that you will not pay for anything else and will save all that, it adds up quickly.
There are now several more websites that offer assistance in placement for Au Pairs. (I recently discovered a placement service through STA Travel). If you are interested in this type of experience I highly recommend researching placement sites, getting your profile set up and going for it! If you are wanting to do long term travel, it is a great way to break up your travels with a steady form of pay as well as room and board. As long as you are good with kids and don't mind giving up a little bit of privacy and independence in the short term (you are living with the family after all) it's the perfect way to finance your journey.
Post by Andrea Hempel