The Best Resources for Cheap, Free, and Paid Travel (Part 2)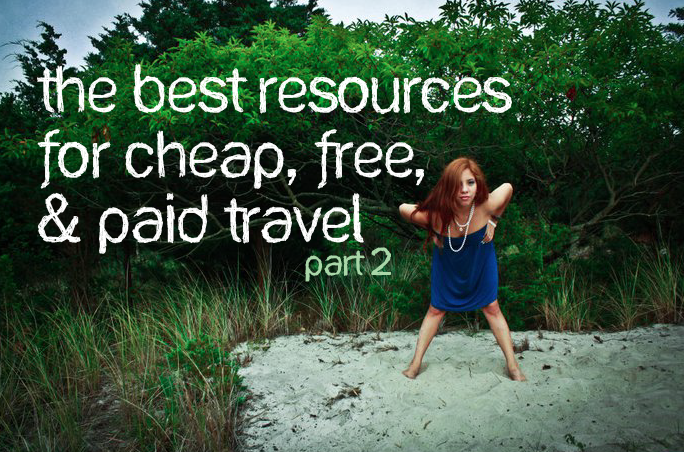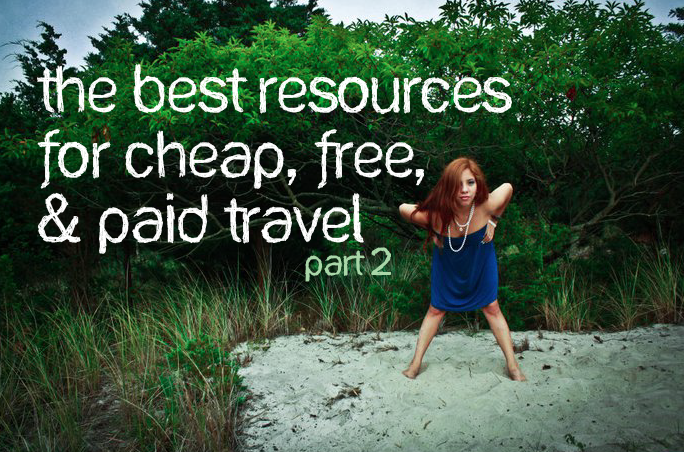 From the rugged to the office job, and from the corners of the US to the corners of the world, here are the top sites on the internet to help you live out your travel for free dreams.
For even more information about traveling for free, take a look at my eBook, How to Become the Jack of All Travel: A Beginners Guide to Traveling the World for Free.
This site has tons of experiences in conservation and outdoor work, both volunteer work and internships. The positions are all across the US, and the internships are expense-paid with opportunities for educational awards. You will be working to maintain and restore important natural environments, like national parks, marine sanctuaries, and landmarks. Jobs are geared toward high school, college aged, and graduate students, but there are opportunities for other age groups too, based on qualifications.
All Hands is a non-profit that offers both volunteer jobs and permanent positions within the company. All hands sends volunteers all over the world to provide disaster relief. And it comes at no cost to you- you get yourself to the location and give your time to the cause, and they will pay for food and housing. The minimum age to volunteer is 18, unless accompanied by a parent.
Through this well known volunteer program, you can help build homes for families in need. In addition to opportunities across the US, there are also opportunities abroad- but these are longer positions, from 6-12 months. Must be 18 years old to participate.
This site has a lot of different options, from regular volunteering, professional opportunities, and family-friendly experiences. Volunteer opportunities are in a few select impoverished areas abroad, with programs in a bunch of different organizations. Programs range from a few weeks to a few months, with fees reaching up to $3,000. Not the cheapest volunteer program, but still far less expensive and more fulfilling than a regular vacation.
These volunteer opportunities let you give back to the environment and to people. There are many types of experiences available, from learning to SCUBA dive and replant coral, to helping manage small businesses in poorer countries. Programs last from a few weeks to over a year, with the pricing varied based on the organization. This is definitely a cool website to search for ideas, even if you decide in the end to go with a cheaper option.
Inter exchange focuses mostly on Au pair (live-in babysitter) jobs abroad, with a small number of other opportunities. There are a lot of choices in various places and it seems like a good organization to work with. You get paid a small amount weekly, in addition to free living and most likely food, and a possible education stipend so you can take classes abroad. If you like kids, this may be a good choice!
This site has tons of different opportunities abroad and has a very useful layout- jobs are broken up by season and type. There are tons of ski jobs, hospitality, TEFL, outdoor, and childcare jobs, as well as Gap Year opportunities. I think i will be focusing on getting the most of this site in the upcoming months.
This site is geared toward- you guessed it- only Australia. There are a bunch of different types of jobs, from spa jobs to down-and dirty labor, like vine pruning and apple picking. While most of the jobs require you to get your own Visa and find housing, the dirty jobs are often part of a complete package, meaning Workabout Australia will help you secure the job and have everything you need set up before you go, for a fee of course. That may be a helpful option for some people.
There are some really interesting jobs on here that I haven't seen on other sites, and they are from all corners of the earth. From becoming a managing partner in a new company based in Sri-Lanka to Chef jobs to working in a French nursery with children, there are opportunities for both people with little experience and people well into their careers.
This site is geared toward the type of things that you might think of when you hear community service, such as helping in orphanages, distributing food to the hungry, teaching children, and helping poor communities to become sustainable. I find the site a little confusing to navigate so it is up to you to find out further information if this is the type of thing you are interested in.
[easyazon_image align="center" height="500″ identifier="B006JHS99W" locale="US" src="https://www.escapenormal.com/wp-content/uploads/2017/06/512K7JRouWL-3.jpg" tag="escapenormal-20″ width="333″]
How To Become The Jack Of All Travel is your gateway into the world of free travel, seasonal travel jobs, and voluntourism at home and abroad, perfect for those seeking to live their own real-life adventures like Elizabeth Gilbert in Eat, Pray, Love.
An excellent starting point for adventurers-to-be, this book gives you the inspiration, resources, and knowledge you need to travel long term for free- to teach English in Thailand, volunteer in Hawaii, work as a ski instructor in the Rocky Mountains, help maintain a national park, intern in Europe, harvest fruit in Australia, and explore the world.
Available on [easyazon_link identifier="B006JHS99W" locale="US" tag="escapenormal-20″]How to Become the Jack of All Travel: A Beginner's Guide to Traveling the World for Free[/easyazon_link]