The Best 23 Resources for Cheap, Free, or Paid Travel (Part 1)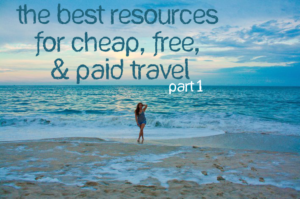 Definitely my new favorite site, I haven't yet signed up for membership but I plan on doing so immediately after I graduate. This site is a travel-for-free heaven. It provides you with a list and pictures of beautiful places, from beach side retreats in exotic countries or family owned campsites in rural France, who want to give you free food and housing in exchange for some volunteer work. I have a feeling Ill be traveling the globe this way for literally years.
Search for seasonal jobs all over the world, from work-exchanges on exotic retreat centers in Costa Rica to adventure kayak tour-guide positions. Many of the employers include food and housing as benefits, so much of the headache of planning your travels will be taken care of for you. The job postings are laid out in a very user-friendly way and with information about what you can expect your new adventure life to be like, what seasons the employer is hiring for, etc.
This is for the adventurous type who still wants to make money while traveling. Here you'll find a bunch of crazy short-term jobs in interesting places, from a cheese-making apprenticeship in Colorado or a volunteer gig maintain a national park, to travel camp counselor position for the more experienced folks.
This site is so simple to navigate and has all the seasonal job listings you could ever think of in one place. You can filter your search by job type (restaurant, volunteer, ski, state park, diving) or pick a job in a specific season. Its a great way to finance your travels-hop from one place to the next in the on-season. If you are outdoorsy, its the ultimate way of getting paid to travel without making a long-term commitment.
Instead of spending money on a hotel or hostel, other travelers around the world welcome you to stay on their couches for a few days, and sometimes even offer to show you the sites in their town. Everyone is extensively rated and recommended in a very personal way so you know you are staying with good, safe people. It took me awhile to join this site because I am not interested in couch surfing myself. But I finally did, and it is a goldmine of information. The community section of the site has groups who discuss a huge variety of travel categories, and I can spend hours looking through the collective information to find great ideas about travel, from raising funds, to Eco tourism and volunteering, to TEFL and luxury travel.
This is a great resource, especially for younger people. WWOOF, World Wide Opportunities on Organic Farms, is a group of hosts and volunteers dedicated to sustainable agriculture. What you give is your time- you get to work on a farm, either with plants or animals, or both, and in exchange you get food, accommodation, and an education. I will try this at least once- it seems to be really gaining popularity and everyone who tries it seems to love it.
This is very similar to WWOOF, except the opportunities have a slightly wider range. There are the farm gigs, but you can also find people with bed and breakfasts, hostels, and even sailboats who are willing to exchange food and accommodation for your volunteer work. Help Exchange seems to be one of the most popular free volunteer sites.
I wish I had found this sooner. For those of you looking to teach English as a foreign language (TEFL) while traveling to generate income, this site has you covered better than any other TEFL site. Its the only site I've found so far that guides you through the process of finding a job and getting to the country, and even has a bunch of job openings with schools that will pay to fly you to the country and house you, on top of paying your salary. You need a commitment of a few months. It gets even better though, because the only required qualification is that you are fluent in English. Of course more and better-paying opportunities will open up if you get a TEFL certificate, which can be done online in 50 to a few hundred hours.
I first heard of a Kibbutz while watching the Nanny on Nick at Nite. Kibbutzes last for a few months, around 2-6, and you can have any number of different experiences. This program really tries to foster a sense of community and family among the volunteers. Kibbutz volunteers need to pay fee to reserve a spot, but they get a small stipend in addition to room and board in Israel.
As you probably know, the Peace Corps is not for the weak-willed or commitment-phobic. People stationed to volunteer in one place for 2 years. There are benefits to being a part of this program- in addition to a monthly stipend for food and housing, you get a small stipend at the end of your stay to tide you over while you look for a job, and you can get your student loans deferred while you are participating. And of course, the Peace Corps stands out because there is no financial cost to you, unlike many other volunteer programs. While many people find working with the Peace Corps to be a life-changing experience, and it is also great for resume building, I'll be honest- I wouldn't join. While it is a viable option for many travel-hungry personality types, if I wanted to settle down in one location for 2 entire years, I would just get a job.
Perfect for those of you who like to experience a variety of things and make long-lasting friendships. There are positions that require little to no experience, and just ask that you have a love of working with children. These are great to get your foot in the door, and as you gain experience you can work your way up to an elite international adventure travel camp job. I was a camp counselor for 4 years as a teenager, and it was a wonderful experience. Now, as I graduate college, I want to do it again. Not only is it something I know I will love, but I will get to learn with the kids in activities like dance, rock climbing, trampoline and gymnastics, dance, martial arts, swimming- you get the idea. These are obviously paid jobs and I like the idea because it is a summer thing- so each summer I can do it again, at a different camp if I want, and then afterwards I am free to continue my travels.
This is a great way for young people to experience another culture. You spend a year or so living with a host family in your country of choice and taking care of children. I had Norwegian Au pairs each year when I was growing up, and me and my family loved them. We are still in contact with them and I finally was able to visit them in Norway 2 years ago. They made plenty of long-lasting friendships in America and I know they all loved the experience.
It is much easier than you would expect to find a job as an English teacher abroad. English fluency is one of the most highly-demanded skills in the world. Sometimes you need certification, which you can easily get online. I became a certified TEFL and "younger learner" teacher via this site in only a few months of work on my own time- a few hours a week.
My roommate and I volunteered to teach English in a Thai high school for a week. There we met English teachers from other English-speaking countries who were living in the town and making big bucks (by Thai standards, but not by American.) So while they were not able to save up money for the future, they were living like kings in Thailand, with good food, and at the nicest place in town.
I would love to give this a try one day. Many people have heard about jobs on cruise ships, not so many know about jobs on private multi million-dollar yachts. But there is a pretty large demand out there for people who can help out on yachts that are traveling to exotic places. This site is like the craigslist of yacht jobs for potential employees with little or no experience. Some employers really just want company.
Another long-term volunteer program- you can serve for up to 3 years. Americorps is more focused on social issues, like poverty, so this may not be the bright, exciting adventure that avid travelers are craving. But there are definitely benefits, including a stipend for food and housing, as well and training, healthcare, and having something unique to put on your resume.
This is a database of nearly-free volunteer opportunities worldwide, similar to I-to-I but cheaper, and frankly a little more difficult to navigate the site. But it gives you access to a variety of volunteer work in places like Kenya and Cambodia, and is definitely worth looking into.
Here's an interesting thought- when you want to travel, but don't want to pay for accommodation, find someone else who wants the same thing and trade homes for awhile. While definitely not for everybody, this is a unique experience and will give you a lot to talk about and stories to tell when you come back. The catch is, it certainly helps if you live in a desirable location to begin with so that people will be willing to swap homes with you. So for those of you living in Middle of Nowhereville, Kansas, you may want to pick a different resource from this list.
So how do I put this well you get to live in a beautiful mansion that you have all to yourself on a private island and get paid for it. Such is the life of a caretaker, who babysits the homes of the wealthy, and sometimes their pets, while they are away for weeks and months. You do a few hours of work a day and can spend the rest of your time exploring your surroundings. The catch is that they tend to hire older people, who tend to be more responsible.
I cant link you to the exact page because there is a different page for every location, so just choose your location on the site. Rideshare allows people to carpool for a small price to the passengers, which can help you save a lot of money getting from point A to point B.
Probably for the older, more settled crowd, this site offers a range of amazing vacations and journeys from intimate charter cruises to safari tours of Africa. Though the trips may not be anywhere near free, they are for the trip leader. That is, if you get a bunch of friends and plan the trip, they pay, but you go free.
GVI is a very well laid out travel site with volunteer and travel opportunities. They have a job board that has some really interesting and unique experiences that I haven't seen elsewhere, but some of them do require a bit of experience in the field. The jobs tend to be managerial- Head SCUBA instructor, a TEFL certification course instructor, manager of a field expedition in the Amazon rain forest, etc. But there are also some really cool volunteer and internship opportunities that I would like to try myself, like a wildlife expedition in Africa.
This is a great site with both employment and volunteer opportunities. What makes it unique is that the positions are all focused on causes, from saving the environment to working with mentally handicapped individuals, and a ton of non-profit companies are represented. The positions range from the general to the specific, so whether you are looking to gain experience outside of your field or advance your career, you should be able to find something here that appeals to you. The search feature on this site is excellent and makes it one of the most user friendly options.
23: How to Become the Jack of All Travel: A Beginner's Guide to Traveling the World for Free
[easyazon_image align="center" height="500″ identifier="B006JHS99W" locale="US" src="https://www.escapenormal.com/wp-content/uploads/2017/06/512K7JRouWL-2.jpg" tag="escapenormal-20″ width="333″]
How To Become The Jack Of All Travel is your gateway into the world of free travel, seasonal travel jobs, and voluntourism at home and abroad, perfect for those seeking to live their own real-life adventures like Elizabeth Gilbert in Eat, Pray, Love.
"An excellent starting point for adventurers-to-be, this book gives you the inspiration, resources, and knowledge you need to travel long term for free- to teach English in Thailand, volunteer in Hawaii, work as a ski instructor in the Rocky Mountains, help maintain a national park, intern in Europe, harvest fruit in Australia, and explore the world."
[easyazon_cta align="center" identifier="B006JHS99W" key="tall-orange" locale="US" tag="escapenormal-20″]