Update From Hawaii- What I'm Doing Right Now
Forget everything you know about the real world- on the big island of Hawaii (at least where I am), life is the exact opposite. There is no need to impress anybody with money or status, and so no pressure to make much money unless it is something that you truly want to do for yourself. And I've noticed here that I never feel more like myself than when I am thinking up business ideas or promoting a blog post or product. It feels like a game to me and I just have to beat my own high score to reach my own ultimate goal.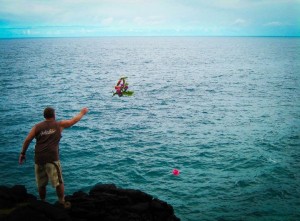 The mentality is very different here. Nobody will be impressed by your busy schedule and the fact that you are stressed about work- people will be more interested in the fact that you took some time for yourself today and had a nice nap by the pool, or learned a new yoga move, or saw a really cool lizard. In Hawaii there is no need to remind people to stop and smell the flowers- when I started writing this post, a fellow volunteer had just come back from a jog, and he stopped to smell a hibiscus flower on the way back to his room.
I am volunteering at Kalani, and my position right now is front of house in the kitchen. My favorite job is making the drinks- I haven't gotten to make too many yet, but I love doing it because it is good practice for when I own a tea shop. One of the first drinks I made was my own recipe, and I called it Cozy Autumn Spiced Apple Cider. Yes, it was as good as it sounds.
Most people here are spiritual. There is a huge yoga culture and a lot more astrology than I am used to. Too many people for my taste are vegetarian or vegan, and there is always talk about energy and oneness and especially manifesting. I call it hocus pocus, but it is interesting to listen to people talk about it (to an extent) just so that I can learn about a different point of view. I especially like tarot cards and reading my daily horoscope- its like carrying a good luck penny to a final exam even though you know it wont actually do any good. Its nice to pretend some of the power is out of your hands and imagine the horoscope is true for a minute. Especially if you are eating homemade salted caramel ice cream at the same time- and that is available in the gift store.
I've never gone to bed and woken up so early in my entire life, not even in middle school. Sometimes I go to bed at 9 pm and it feels normal, and then I wake up at 5:40 to go to work. Its a good thing my job is so fun or I wouldn't make it. Plus, its only 4 days a week. We play music in the kitchen while we work, and as front of house I get to choose the music sometimes, and control the volume- which means loud music I can dance to while I work. Oh yeah.
That is what I miss most about- well anywhere else in the world- is the noise. Kalani is a retreat center with paying guests who are here to meditate and do yoga and other such quiet activities, so no loud music is allowed (for the most part) and in most places, you have to be very aware of the volume of your voice. Its a huge part of my regular routine at home to blast loud music and sing and dance to it, so that is something I've had to learn to live without.
Buildings are inside out. The buildings here are called Hale- pronounced Hah-lay, which I'm told means no air, or something similar. But they seem pretty airy to me- entire walls are just screens. Many volunteers live in A-frames, which is basically just a tented roof with screen walls. It wasn't as hard to get used to as Id imagined, but I do miss the coziness of being inside a snug room while the weather is bad outside. And being able to have a conversation that everybody within 50 feet of me wont also be able to hear.
I like the hot tub. On a clear night, with stars.
There is plenty of time to think here and no pressure to do anything you don't want to do. So one thing I've been doing is trying to decide what my next business will be. I haven't come up with anything yet, but I just got an idea for an eBook I would like to write, and I'm sure whether it is successful or not I will learn a lot from it. I am excited to start!
Aloha.
Read my review of Kalani