Vibram Five Fingers Jaya LR: Review and Sizing
Overall Grade: A
I wanted some good shoes for Hawaii, and I chose the Vibram Five Fingers Jaya LR. They are one of the lightest pairs of shoes that Vibram sells, and therefore one of the most barefoot-feeling. The problem with buying Vibrams, though, is that there are still very few brick-and-mortar stores to try them on and buy them in, so like many people I had to order online without ever trying on a pair and hope for the best. Here is what you need to know before you buy them.

Sizing/Fit
Grade: B
To measure your feet, tape a piece of paper to the floor, and either trace around both of your feet individually (hold the pen perpendicular to the floor to get the best measurement), or better yet have somebody trace around your feet for you so you're not moving around too much. Then go to the sizing chart on the Vibram site and convert your foot length into a shoe size, using the length of the larger of your feet if they are not the same size.
There is a bunch of confusing information out there about the fit- some people suggest going down a size for a more snug fit. I disagree. I bought my first pair true to size according to the Vibram sizing chart, and they felt great. My toes had plenty of room, and I really did feel barefoot. It was easy to walk around, but there was one issue- they felt a little too loose in the heel. I was worried they would slip off while I was climbing stairs or rocks in Hawaii. So I returned them and ordered a size down, which is the pair I stuck with.
I should have kept the larger one. While the smaller pair is definitely snugger and there is no chance that it will fall off, some of the length was taken off of the toes rather than the heels, so that I cant wiggle my toes as well as I could in the bigger pair. I probably wouldn't even notice that if I hadn't tried the other pair first, but now I know that it is meant to fit so you can move your toes.
If you are like me and you want a snug fit, Id recommend buying a different style with a strap on the back or over the foot.
Effects of the Barefoot Feel
Grade: A+
I love walking in these! Even with the slight sizing issue, my balance is so much better. I recently took a trip to some lava tubes and had to hike and climb over rocks in near darkness, and I really noticed the difference with these shoes. Everybody I went with had to use their hands to help them balance, but I was able to climb and jump from rock to rock using just my feet to balance. Id never thought about it until that moment, but there is a lot of wiggle room in regular sneakers and you aren't able to use your toes to help you balance. It makes such a big difference! The Vibram Jaya are incredibly comfortable and have a good grip, so there is no slipping. I kind of felt like a kid re-discovering what my feet could do.
Durability
Grade: A-
I couldn't stay away from this particular pair because it is the best looking one, in my opinion. But when they wear out, my next pair will be a more durable one. These are great and I am even able to walk over sharp lava rocks and gravel without much problem, but a pair with thicker soles would be a really welcome replacement for regular sneakers. The Jaya LR is a great pair for everyday walking and low-impact activities. Some of the stitching is starting to fray after a month of use, but the Jaya LRs seem like they will hold up for as long as I need them to.
I was able to wear these straight into the water, too, which is another great benefit.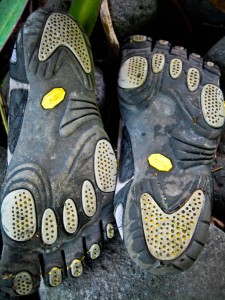 Traveling
Grade: A
The Jayas are a great choice for traveling because they are light and versatile, and pack in almost no space. They are extremely easy to put on and take off. They are also easy to wash- you can just throw them in the washing machine and let them air dry.
I fully recommend these shoes- so if youve been thinking about it, get yourself a pair of Vibram Five Fingers Jaya LR or explore their other styles.
One note- don't wear these to work, unless you work outside or are a fitness instructor. Nobody wants to see Vibrams as an accessory to a pinstripe suit. Please. Spare us.