Want to be an Entrepreneur? Get Serial.
Many entrepreneurs have one business that is their baby; it is the first thing they think about when they wake up in the morning, while they are eating lunch, it is what they are daydreaming about durning an episode of CSI Miami, and it the last thought they have before they go to bed. But far more than half of new businesses fail, so many of those entrepreneurs will spend years of their life doing something that was doomed to fail in the first place. But that pain can be avoided if you diversify.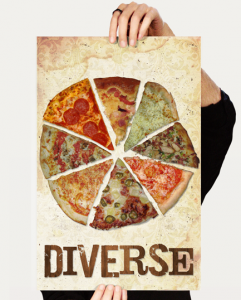 Art by Billpyle
Serial entrepreneurs start many businesses. They don't introduce themselves as John Harvey, owner of Harvey's Hardware, but as John Harvey, serial entrepreneur. Just like with buying stocks, the key to making money is to not put all of your eggs in one basket. It doesn't have to be as hard as it sounds. Your projects don't need to be world-altering- you can be a serial entrepreneur without forming 10 public companies that sell products internationally. Pick smaller things and see what works, and then focus your attention on those.
These are the projects I am working on. I'm putting more effort into some than others, but the point is, if one fails, there are plenty of ways left to succeed. You can take these methods and tailor them to your own interests and become your own employer.
1) Passive income through blogging
Developing an income stream through blogging takes a LOT of time, but it is what I was expecting and I enjoy doing it. I am actually surprised I am making any money from blogging at all, as it is only my 3rd month, but they way it is going I hope to be able to support my travels through my blog by the end of the summer. Blogging is my get rich slow scheme. What I like about it is that I put in a certain amount of work (maybe a years worth) and then the blog will be able to essentially maintain itself, with income coming in whether I work on it a lot or not.
2) Turning a hobby into an income
I love arts and crafts and for some reason this is the first time I have considered selling my work. I just set up an account on etsy.com and I look forward to experimenting and figuring out how to sell jewelry and other crafts for a good profit. This is an income stream I know I can fall back on if all else fails, because it is something I enjoy doing, it wont go out of style, and I can do it from anywhere in the world.
3) Selling something for more than it costs to buy
Find something you can buy cheap and sell high. I've had ParadoxFox sitting for a few months now without working on it, but I will put more focus into it this summer to see if it takes off. I'm selling certificates of ownership for time travel lottery tickets, land on the moon, and parallel universes- essentially just fancy paper with a meaning attached (great gifts!), for a high profit. There are plenty of other things you can do- my brother in his first year of college has set up a wholesaler account with a company online, allowing him to buy cheap products from them in bulk which he can re-sell individually for a much higher price. Its going very well so far.
A simple way to sell something for more than you paid for it is to repackage it in an attractive way. For example, you could buy bulk loose-leaf tea, put it in a nice gifting jar with ribbons and a tag that describes the flavor and tells a story about the tea, and re-sell it for a higher price.
4) Making a deal with a big business
If you make a contract with a big business, you're in. Think of a product that people need, find a company who can manufacture it cheaply, and make a contract with a company who will be willing to sell it for you. There was a woman who though of a very simple product and was able to grow a business from it by getting a yoga company to agree to sell it in their stores. I think the woman branded her slip-free yoga mat product Yogitoes, but I could not find the right information online so don't quote me on that.
I'm working on this kind of deal with a good friend of mine- but I am not at liberty to talk about it. If it works out, I will make an announcement in the next few months, so be on the lookout and cross your fingers for us!
One piece of advice- don't wait until the big idea comes along. If you have ideas for a bunch of small businesses that have been brewing in the back of your head for awhile, get started on those. More big ideas will come once you've started one business and develop a feel for entrepreneurship. Just like most things in life, the best way to learn is by doing.