What I'm Up To: Feather Hair Extensions for Sale!
For the past month or so I have been buying long, thin, grizzly striped rooster feathers in bulk. These feathers, used for fly fishing, have suddenly become a hot commodity for young fashion savvy girls and celebrities. I'm going to assume the trend started in Hollywood but I'm not sure- but the first place I saw the feathers was in the hair of my favorite celebrity, Steven Tyler.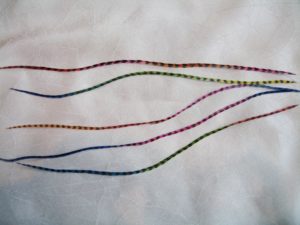 The price of the feathers has skyrocketed and fly fishing stores were surprised to find their feather walls overflowing with giggling girls. Now feathers are sold out in bulk almost everywhere, so people looking to get in on the trend need to scour the internet for small packs of hand-dyed feathers to put in their hair.
Which is where I come in! I bought a set for myself, and in doing so I saw the huge opportunity in the market. It took me a while to find bulk feathers I could buy for a reasonable price, but I found them, hand dyed them, and now I am selling them on the internet and on the streets.
Take a look at some samples of my feathers! And of course if you know a girl who needs a few, send me and email.