Work-Exchange At Global Creek Life Learning Institute, Costa Rica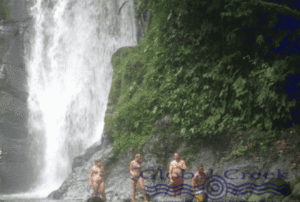 We offer volunteers accommodation and amenities in our gorgeous hillside jungle space, access to our facilities, workshops, classes and services, delicious organic healthy meals and beverages, tours and excursions to local areas & sites and some truly unique and special learning and personal growth opportunities. This comes in exchange for volunteers time and energy in supporting us in certain projects, a modest fee to cover basic living and support costs, and most importantly the investment of their passion in what we will be accomplishing together.
Volunteers live as a community, speaking at least in terms of our daily agendas and activities. Workdays start-off together with morning balancing activities (which may include optional meditation and/or yoga sessions) and group breakfast, from where project updates may be discussed, common goal-setting laid, and resources allocated for the day. We spend 4 days per week working on our grounds here at Mango Walk in and around the gardens, on the trails and paths, within the cacao forest or perhaps around the visitor spaces, and then we dedicate 1-full day of the week to volunteering elsewhere in the community. On the weekends we visit a local-area site or attraction, and take the remaining day as a completely personal day.
There are a variety of different types of projects and areas in which volunteers may get involved at Global Creek, and each exact role is tailored to the individual volunteer. We work together to find a custom union between our active projects and needs and your particular interests, skills, and goals.
Job Type: Work Exchange/ Volunteer
Location: Costa Rica
Cost To Volunteer: $17/day
Season: Summer
Learn More/ Apply At: Global Creek
ID:EN