New eBook: How to Become the Jack of All Travel: A Beginners Guide to Traveling the World for Free
[easyazon_link identifier="B006JHS99W" locale="US" tag="escapenormal-20″]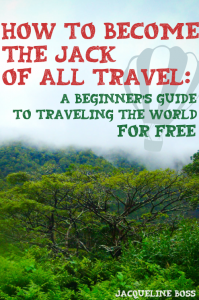 [/easyazon_link]I'm excited to announce that my new eBook is finally finished, published, and ready for your reading pleasure! I wrote How to Become the Jack of All Travel: A Beginners Guide to Traveling the World for Free so that all of the information I have about traveling for free would be in one neat little package, organized with links, examples, advice, and my personal experiences. For anyone who has the travel bug and is itching to see the world, here is the perfect starting point. Best of all, the book describes ways to travel that anybody can do- you don't need to be super-specialized and have a PHD or a long list of skills on your resume.
I've had to do tons of research in order to be able to travel the way I do today, and all the while I wished there was some kind of travel for free for dummies or working and traveling the world for idiots guide. So, since I've finally accumulated enough information to live the free travel dream for myself, I decided to write that how-to-travel-for-free book myself. That way, people would be able to learn in a day  what took me years to figure out.
Whether your goal is to get paid to travel and work your way around the world in various exciting seasonal jobs, or whether you like the idea of volunteering in exotic places and you're interested in finding cheap and free volunteer positions, or even whether you are just looking to cut down on the cost of your next vacation, this book will help you find a way to accomplish your travel goals.
For me personally, working and traveling (or volunteering and traveling) is the way I choose to live my life. I've learned so much more about the world, people, and myself in just a few years of sporadic traveling than I have in all of my years of schooling. I've made friendships that will last for the rest of my life, with people spread all across the globe. I've developed into a leader, I'm refining my own business ideas, I organize my time better, and my self confidence (although already high) has grown. Everybody who travels will gain something different from the experience; what I gained were all things that are very important to me and that I focus on in my life; what you will gain from traveling will naturally be more applicable to you. Maybe you will learn a language, have an epiphany about your career, learn about love, or realize that you can be anything you want to be when you have a blank slate to start with.
What Id like to stress most is that anyone can do what I've written about in my eBook. Anybody can travel the world for free. I've listed some travel jobs and other opportunities that require some more skills listed on your resume, but most of the opportunities are open to almost anyone. I can attest to this since I've used a lot of the resources in the book myself. There are so many great ways to travel for free, the hard part is just knowing where to look. And I've done that for you.
If any of this resonates with you, if you're one of the people that's wanted to travel more than anything but just cant figure out how to make it work financially, then this is your challenge, should you choose to accept it. Read through the book, pick one thing that sounds the most exciting to you, and use the resources and links in the back of the book to go the programs website right then and there. Get out your calendar and plan out your journey. Don't let fear of the unknown or fear of leaving your comfort zone stop you. If your dream is to travel the world, then do it. You only get one life- make it one to remember.
Buy it now: downloadable PDF eBook or Amazon Kindle[easyazon_link keywords="B006JHS99W" locale="US" tag="escapenormal-20″] [/easyazon_link]
More information