Safari Journals: Day 1: Fading Into The Mist
Safari in Africa: It was never on my to-do list, but then Id never really looked into it before. My grandpa (Poppy) has always wanted to visit Africa, so he finally decided to just do it and booked an amazing trip that was all planned out for him. He invited me along and since I had nothing in particular to do, I jumped on board. The trip has already come and gone; I have written these journals in a notebook during the 10 days Poppy and I spent in Zimbabwe and Botswana, so now I present them to you typed out and with my favorite photos from the trip. Lets begin with day one.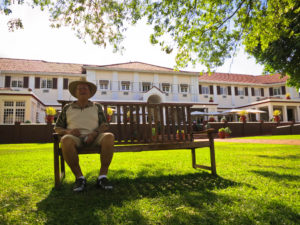 Yesterday we spent the entire day on a plane. When we arrived in Zimbabwe, I was exhausted. But we had been told to try to stay awake until at least 7:00 pm, so that was my goal.
A driver picked us up from the airport, along with about 20 other people, and took us to our hotels. The first stop was a smaller hotel. Most of the staff were well dressed with the exception of one sterotypical African tribesman with a costume and headress. He greeted the guests with tribal yells and jumps that seemed awkwardly racist, so I was glad we were staying at a different hotel.
The Victoria Falls Hotel is beautiful and overlooks an old bridge by the Victoria Falls. Unfortunately I was so exhausted by the time we have dinner that I was afraid I would start hallucinating soon- there was no way I would be able to explore the hotel that night. I couldnt make it to 7:00 pm, and fell asleep at 6, waking up the next morning at 6.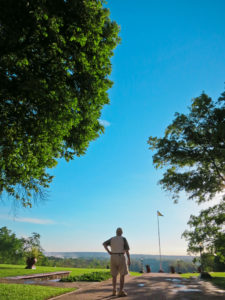 Me and Poppy had a great breakfast with a pretty view. We ate beef, bacon, eggs, potatoes, chocolate croissants, yogurt and granola, fruit- the works. They also gave us coffee and a choice of tropical juices (I picked guava. Mmm). I was excited to eat lilikoi for the first time in a year- I havent seen any since I left Hawaii. (There, Id been eating lilikoi for a month before somebody told me that lilikoi is just the Hawaiian word for passion fruit. I still call it lilikoi.)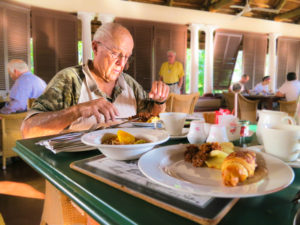 We started the day with a trip to Victoria Falls. We had high expectations. A pathway was paved around the falls, lined by trees and jungle, and as we rounded a corner we got our first glimpse of the falls through a break in the foliage. They were more magnificent than we imagined, with a closer, smaller waterfall nearby and larger, grander ones fading into the distance so far that they were veiled from view by their own mist.
We walked further along, and every 100 feet or so was an opening by a ledge on which to view the falls. The views got progressively more amazing: first a close-up view of the tumultuous closer falls, then a similar view with a rainbow, next with 2 vibrant rainbows, then a view of the entire falls; after that, as we progressed closer and closer to the enormous main falls, it became so rainy with waterfall mist that we really couldn't see the falls anymore, and we were getting soaked anyway, so we turned back to wait for our taxi driver.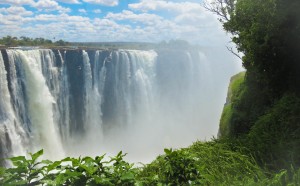 On the walk to the entrance of the falls, we ran into a man who told poppy that he wanted a picture of his small son and poppy, so poppy held onto this poor, confused little boy as his dad took a picture of them. I offered to take a picture of the boy and his dad, but his dad just sat next to poppy so I took a picture of the three of them.
Although this was a little atypical, everyone here is extremely friendly and helpful- both the natives and the visitors. It is similar to the atmosphere on a ski mountain, where everybody knows that they will need help at some point if they fall down, and so they look out for everybody else. Here the mutual benefit is that everybody gets pictures taken of themselves.
We had an hour to wait for our taxi so I decided to take one more look at the falls, since I would probably never see them again in my life. I progressed the entire way along the path to the rainy section, where the trees and foliage resembled a tropical rainforest, and I saw a group of people standing in a line where the path narrowed and curved. I assumed it was a line for passage into the Zambia side of the falls from Zimbabwe, which I would not pass, but I went closer to make sure and saw that it was a group gathered to take pictures of a family of wild monkeys! I stopped to take pictures too, and progressed a little further, where I found another family of monkeys- this time beautiful white monkey. They played in the trees so I had to wait patiently to get a good picture, but I sure did get one.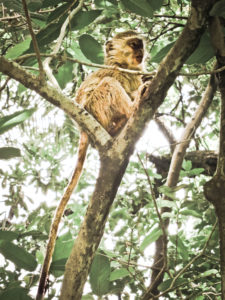 We arrived back at our hotel and longed around for awhile, watching the wild pigs, reading by the pool, taking pictures, eating lunch, and napping. We also saw some mongooses on the way back to the room. The pigs had been completely bored by us, but the mongooses were as interested in watching people as we were in watching them, and they lay down to stare at me staring at them. Africa is pretty cool.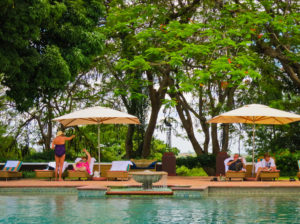 Before dinner we took a walk around the property and I was surprised to see so many tropical plants. I founnd some of my favorite flowers, plumeria, and picked my favorite fruit- mango- and a lime. The bridge in the distance looked very nice in the evening light, especially with an old locomotive paused on top, letting off black smoke.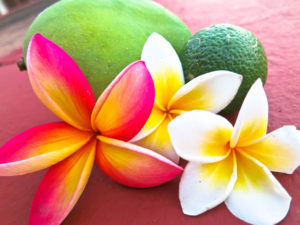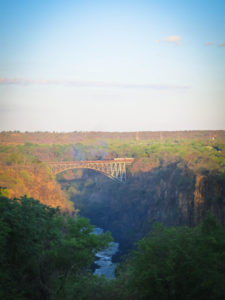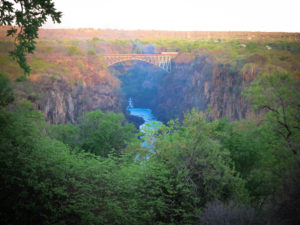 Dinner was buffet style and there was so much food to try. It was all very good. While we ate the staff performed an African tribal dance at the front of the dining area. A bunch of young people in colorful costumes did amazing dances to the beat of drums and chorus of a few African girls. My favorite performance was the stilt dance, during which one boy had a stilt attached to one leg and hopped and danced with it.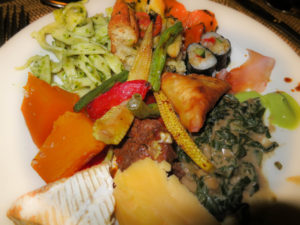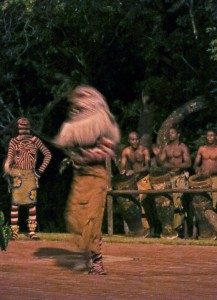 Now it is time for bed. Tomorrow we are taking a charter flight to our first bush camp in Botswana. Safari, here we come!
This is part of a series called Safari Journals. You can read the rest of the journals here:
Day 1 Day 2 Day 3 Day 4  Day 5 Day 6 Day 7 Day 8 Day 9 Day 10